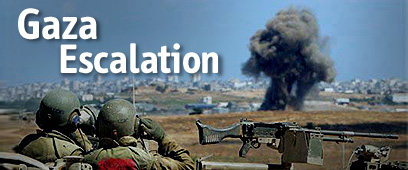 Troops prepare for action near Gaza
Photo: AP

Air Force strikes in Gaza, 207 arrested in West Bank
IDF launches operation 'First Rain,' hits Hamas, al-Aqsa Martyrs' Brigades targets in Gaza Strip in response to Qassam rocket barrage directed at Israeli communities over weekend. More than 20 Palestinians hurt; earlier, cabinet approves harsh measures, including renewed targeted killings, artillery fire, attacks on infrastructure in Gaza; meanwhile, 150 wanted Palestinians arrested in broad overnight operation
(VIDEO) The IDF has launched operation "First Rain" in the Gaza Strip early Sunday, after the security cabinet approved a series of harsh measures in response to the Qassam rocket barrage directed at southern Israeli communities over the weekend. In additon, IDF forces have arrested 207 wanted Palestinians across Judea and Samaria in a broad operation overnight. Most of the arrests took place in Hebron, Ramallah, and Bethlehem.
A number of weapons were also seized. The wave of arrests was the largest in months, and is a further indication of the ending of the calm period.
Shots were fired at soldiers at a number of stages in the operation, but no injuries have been reported.
Among those arrested: Senior Hamas leader in Tul Karm Fathi el-Qarawi, Mahmoud Razael on Nablus and five other senior Hamas political officials – Sheikh Ahmed el-Haj Ali, Taiseer Amran, Wail Hashash and Taail Dirawi.
Forces also detained four senior Hamas members in Qalqilya: Ibrahim Zid, Nasim Shanti, Omar Sawilah and Abdullah Jaidi.
The Palestinians said that most of Hamas' political leadership in the West Bank was detained.
Hamas spokesman Sami Abu Zahari said, "Israel is trying to hurt us ahead of the elections by making all of our representatives in Palestinian cities disappear," adding that he hopes the Israeli operation would have an opposite effect.
Witnesses said there was a massive movement of tanks and other vehicles into the West Bank. Palestinian sources said that the IDF did not differentiate between Hamas 'military' and 'political' suspects, and the terror group's West Bank leader, Sheikh Hasan Youseff, was arrested. Another prominent Hamas leader arrested overnight is Sheikh Patahi al-Qarawi, a Hamas leader in Tul Karem.
Operation 'First Rain', Israel's first since the August withdrawal from Gaza and parts of the West Bank, got under way Saturday night with an Air Force strike on two structures in the Gaza Strip town of Khan Younis where weapons belonging to the Fatah's al-Aqsa Martyrs' Brigades were stored. Two Palestinians were reportedly hurt in the attack, after three missiles were fired at the target.
Later, the Air Force struck two more targets in the Strip. A Hamas educational institute in Gaza City's Sajaiya neighborhood was targeted, as well as another structure in the Jabaliya refugee camp. Medical sources in Gaza said at least 20 people were hurt in Sajaiya, including women and children, when part of the structure collapsed. The IDF said the school targeted was used to raise funds for Hamas.
Meanwhile, gunships struck another structure in Jabaliya, used as a Popular Resistance Committees' weapons warehouse. The Air Force also attacked a Popular Front office in the town of Beit Hanoun. No injuries were reported in the strikes.
Escalation in the South (Video: Reuters)
Members of the security cabinet, who convened Saturday evening to discuss the escalation in Gaza, approved defense establishment recommendations for a series of military operations in a bid to stop the rocket strikes.
During the session, ministers agreed to approve artillery fire on Gaza targets, the renewal of targeted assassinations of terrorists in the West Bank and Gaza, strikes on Palestinian infrastructure, arrests of terror suspects, and a curb on the entry of Palestinian laborers into Israel.
Sharon: Stop rocket fire
The military strikes in Gaza will be ongoing and continue until a further cabinet decision. Prime Minister Ariel Sharon said attacks on Israeli communities cannot continue, and directed top security officials to "stop it."
The operation will be extended in the coming days in order to press the Palestinian public and "disconnect" it from Hamas, IDF Operations Branch Head Yisrael Ziv said early Sunday.
Ziv also slammed Palestinian leader Mahmoud Abbas, saying "he must roll up his sleeves and not sit in Ramallah, but rather, come down to Gaza and start working."
During the cabinet session, Defense Minister Shaul Mofaz said the Palestinian Authority "must understand that hitting an area under Israeli sovereignty comes with a price tag."
"For us this is a first test that requires unequivocal policy," he said. "We must realize Hamas is preparing itself to be a government alternative…it aims to weaken the Authority and maybe even take over it."
As the session was winding down, the 36th Qassam rocket fired from Gaza over the weekend landed in an open area near kibbutz Nirim in the Negev desert. No injuries were reported in the attack.
IDF tank near Gaza (Photo: AP)
Earlier, the IDF dispatched armored corps and infantry reinforcements to key points near northern Gaza. Police officials also decided to boost their operations, particularly at border areas and around Jerusalem. Meanwhile, the various police districts were instructed to boost their presence at entertainment venues and crowded locations.
Preparing to spend night at bomb shelters
On another front, the school system in the southern communities of Sderot and Shaar Hanegev will go on strike Sunday to protest the ongoing Qassam attacks. The local market in Sderot will also remain close.
According to a statement issued by Sderot officials, "these actions are a result of an unbearable security situation. Town leaders will conduct an uncompromising struggle to ensure the security of town residents."
In the southern kibbutz of Nir-Am, residents are preparing to spend the night in bomb shelters. Kibbutz Secretary Avi Kadosh says this is the first time locals are adopting the measure, following ongoing attacks the previous night.
Two of the Qassam rockets fired at the kibbutz landed at the elementary school in the community Saturday, causing serious damage to classrooms.
Also Saturday, U.S. Secretary of State Condoleezza Rice phoned Palestinian leader Mahmoud Abbas to discuss with him the latest flare-up in the Gaza Strip.
Rice demanded that Abbas do everything he can to curb Qassam attacks on Israeli communities, while the Palestinian leader asked for American intervention in a bid to prevent Israeli operations in Gaza.
Ali Waked, Efrat Weiss, Tova Dadon, Anat Barshkovsky, and News Agencies contributed to the report