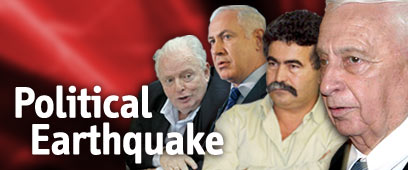 Sharon (left) with President Katsav
Photo: GPO

Leaving Labor for Sharon's party. Haim Ramon
Photo: Shaul Golan
(VIDEO) Likud? A waste of time: In a press conference Monday evening, Prime Minister Ariel Sharon said he decided to leave the Likud and "give the people of Israel hope," noting that staying in the ruling party would have been a "waste of time."
Sharon speaks (Footage: Channel 1; Photo: Reuters)
"After great difficulties I decided to leave the Likud today," Sharon said. "The Likud in its current constellation cannot lead Israel to its national goals. I set up the Likud in order to serve a national idea and give hope to the people of Israel. Unfortunately, this is no longer the case there (in the Likud)."
"Had I stayed in the Likud, I would have likely won the primaries and led the Likud to an elections victory," the PM noted. "It would have been a safer move personally, but it's not the way to serve the Sate of Israel. Staying in the Likud means wasting time in political struggles instead of deeds on behalf of the country."
"Israeli citizens put their faith in me, they didn't elect me to keep my chair warm," he said.
'Pullout provided us with historical opportunity'
Turning his attention to Vice Premier Shimon Peres, Sharon said: "I don't know if he wishes to remain in the political life. I'm not sure, but I know he still has some very interesting plans."
Addressing the possibility of Peres joining his party, the prime minister added: "For some reason I have a feeling he's a bit tired of the political life…but in my view he still has the ability to contribute."
Sharon also noted his new party is facing two big tasks.
"The first one is to lay the groundwork for a peace agreement where we'll set the country's permanent borders while insisting on the dismantlement of terror organizations," he said.
"I'm talking about the Road Map. The disengagement provided us with a historical opportunity and I don't intend to let anyone to blow it," Sharon added.
"The second task is to put the house in order and address poverty, education gaps, crime, and violence," he said. "This is not done through cliches and empty promises. This is done through deeds."
Responding to a reporter's question regarding future settlement evacuation, Sharon said: "I'm planning (to implement) the Road Map on all its sections. I don't intend to carry out any other plan…there is no plan for another disengagement. It was a one-time move meant to allow for the continuation of the diplomatic process in accordance with the Road Map."
13 Likud MKs join Sharon
Earlier, Sharon succeeded in recruiting 13 other Likud Knesset members to his new party, National Responsibility, thereby qualifying for extra campaign funding as a 'breakaway faction.'
In order to qualify as a breakaway faction, the new party needed at least a third of the Likud's 40 Knesset members.
Sharon meets President Katsav (Footage: Channel 1)
Members in the alliance so far include ministers Ehud Olmert, Tzipi Livni, Meir Sheetrit, Gideon Ezra, and Abraham Hirchson, and Members of Knesset Omri Sharon, Marina Solodkin, Zeev Boim, Jacob Edery, Ronnie Bar-On, Majalli Whbee, Eli Aflalo, and Ruhama Avraham.
Along with Ariel Sharon the team amounts to 14 parliamentarians who have been asked to sign letters of resignation from the Likud and fill in membership forms for the new party, "National Responsibility" in a sign of allegiance to their old-new boss.
Inbal Gavriely, who was believed to having decided to follow Sharon, reportedly opted to stay in Likud when aides fell short of promising her a ministerial portfolio in case the new faction wins the elections.
Ruhama Avraham is being considered for the Interior Ministry, while Eli Aflalo is considered for the Trade, Industry and Labor Minister.
Earlier Monday, the new faction held its first meeting in Sharon's Jerusalem office, after the PM officially announced his resignation from Likud in a letter to the party's Central Committee Chairman Tzahi Hanegbi.
'A new path'
Sharon told his new faction members that "I am happy that you are here. We are embarking on a new path and we must prepare for the future."
In the Prime Minister's Office aides were sufficiently upbeat to speak of a good atmosphere during the meeting, with MKs praising Sharon's decision as appropriate in light of the paralysis caused to his government by Likud rebels opposed to the disengagement from Gaza.
Sharon told his new followers that a meeting of the faction will be held once a week, allowing members to express their views on how the new alliance should move forward.
Sharon outlined the broad lines of his agenda in the meeting, vowing to follow the Road Map plan for peace and continue the war on Palestinian terror.
"I do not envisage another disengagement in the near future," said Sharon.
The PM thanked his ministers and Likud MKs for their courageous decision: "I am happy to see you and want to acknowledge the courage you showed. It is not an easy decision. We are facing tough elections. There is no doubt we will face hurdles yet the hope is we remain united."
During the meeting it was decided that Tzipi Livni will draft a plan to change the form of governance. Olmert will focus on the socio-economic agenda, while Solodkin will see the immigration portfolio.
"I am impressed things are moving in the right direction. I long believed there is a need for forming a centrist party and the public is ripe enough for this move," Solodkin said after the meeting
Ilan Marciano contributed to the report