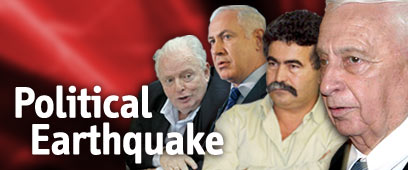 'They either don't speak Italian, or know nothing about history.' Lapid
Photo: Dan Balilti
Prime Minister Ariel Sharon's new party bears the exact same name as fascist Italian dictator Benito Mussolini's, Shinui Chairman Yosef Lapid claimed on Thursday.

"Sharon is said to have clever campaign managers, and they chose for him the name of the Duce's party. The name was Avanti, which means forward, like Sharon's party, which is named Kadima (forward in Hebrew)," Lapid said.

"They either don't speak Italian, or know nothing about history," he added.

Lapis made the scathing remarks during a meeting of the Shinui Council that convened in Tel Aviv Thursday.

Referring to recent ominous polls that predict a harsh drop for Shinui in the upcoming elections, Lapid said he was not concerned.

"Contrary to what the surveys predict, Shinui will win in the elections. Today's polls are the result of temporary enthusiasm, but the public is bound to realize that Likud, Labor and Sharon's party can only compete over which party is more corrupt," Lapid stated.

Shinui will continue to wage war on corruption and remain the cleanest party in parliament, Lapid added, stressing that the party will also stay true to its struggle against the religious factions.

"The secular public and the middle class are not represented by any of the three major parties," he said.

Lapid also pledged to support a peace process based on the Road Map peace plan, and not on Amir Peretz's amended Geneva Accord, or Uzi Landau's program.