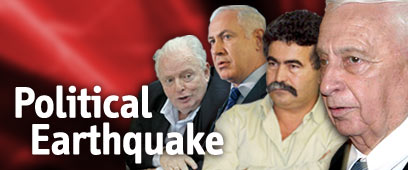 Likud. Collapse
Photo: Yaron Brenner

Sharon. The only way is up
Photo: Reuters

Amit. Joining Peretz
Photo: Shalom Bar Tal
The Likud would gain only 10 Knesset seats were the elections held today, according to a new poll conducted by the Dahaf Institute headed by Dr. Mina Tzemach and published Wednesday in Israel's leading newspaper Yedioth Ahronot.

In last week's Dahaf poll, the Likud received 13 Knesset seats.

The Likud's situation is so bad, that even Shas overpasses it in the poll with 11 Knesset seats.

Prime Minister Ariel Sharon and Labor Chairman Amir Peretz can be quite satisfied with the survey's findings. Peretz receives 27 seats in the poll, while Sharon wins with 34 seats for his new party Kadima.

Each of them has gained one more seat compared to last week's poll.

Peretz can also smile with satisfaction after former Jerusalem District Police Commander Aryeh Amit decided Wednesday to run in Labor party primaries. Amit is expected to meet with Peretz later in the day.

The significance of the poll's findings is that Sharon and Peretz will be able to form a national unity government after the elections with 61 Knesset seats and with no need for a coalition with other parties.

According to the poll, the ultra-orthodox parties gain six seats, while Shinui continues its downhill spiral with only five seats (compared to six in last week's poll). Yisrael Our Home, Meretz-Yahad and the National Union also receive five seats each. The National Religious Party receives 4 seats, and the Arab parties gain 8 seats altogether.

The poll was conducted among 500 respondents, who constitute a representative sample of Israel's adult population. The maximal sampling error is four percent.

"This proves only Mofaz can"

Defense Minister Shaul Mofaz, one of the Likud's leadership candidates, said in response to the poll that "in order for the Likud to regain its real power and win the elections, the party must elect for its leadership a new figure that can rehabilitate the Likud and bring back its voters."

Sources in Mofaz's campaign headquarters said that "there is proof that only Mofaz can unite all the populations around him and bring the Likud's traditional voters, who were hurt by the social-economic situation, back home."

Sharon's aides said in response to the poll that "a gap of seven Knesset seats is good, but not enough. The difficult part is still ahead of us."

Kadima members were satisfied with the party's big achievement of convening 72 mayors in a meeting at the prime minister's official residence in Jerusalem Tuesday.

"When seeing the people who came to the prime minister's residence from the leadership of mayors and council heads, it's hard not to understand that something has happened in Israeli politics," sources in Kadima said Wednesday.

However, the real event Kadima is waiting for will most likely take place Wednesday, when Shimon Peres is expected to officially announce that he is leaving Labor.