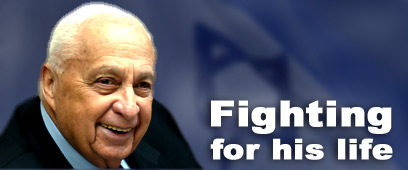 PM Sharon rushed to hospital - again

Security arrangements around hospital boosted
Photo: AP

Ambulance takes Sharon to hospital
Photo: AP
Surgery over; Sharon clings to life
PM clings to life: Prime Minister Ariel Sharon undergoes seven-hour surgery overnight, taken to intensive care unit. Hospital director says PM's vital signs in order; Olmert designated as acting prime minister. Hospital sources say Sharon will be hospitalized for long time even in best case scenario
(VIDEO) Prime Minister Ariel Sharon is in serious condition and clinging to life. The PM is still under anesthesia and is being ventilated following a complex seven-hour operation, a Hadassah Ein Kerem hospital official said around 9:30 a.m. Thursday.
At around 2 p.m. hospital director Shlomo Mor Yosef told reporters that Sharon remains in serious but stable condition, adding that the prime minister is still heavily sedated and connected to a respiratory system.
Sharon's brain hemorrhage was stopped and he was taken to the intensive care unit, Mor Yosef said following the operation, adding that the PM's vital signs are in order. The PM suffered a massive brain hemorrhage, Mor Yosef told reporters earlier.
Thursday morning's announcement – Sharon still alive (Footage: Eitan Ortal)
"The prime minister is, of course, under anesthesia and being ventilated. We're talking about a severe stroke and a cerebral hemorrhage. We can say the situation is grave," he said.
Even in the most optimistic scenario, hospital sources said, Sharon is expected to stay at the intensive care unit for a long time and later move on to a lengthy rehabilitation period.
The surgery on Sharon started at 11:30 p.m. Wednesday and continued throughout the night in an effort to drain the blood from the brain and seal off the blood vessels. Sharon was reportedly taken out of the operation room at 4:45 a.m. and taken for tests, before promptly being taken back into the room to stop additional hemorrhages.
Sharon rushed to hospital (Footage: Reuters)
Thursday morning, Government Secretary Yisrael Maimon left the hospital and reported Prime Minister Ariel Sharon's surgery continues.
Maimon refused to provide further details. Earlier, Sharon advisor Dov Weisglass left the hospital, and also refused to answer reporters' questions. Sharon's former personal physician Bolok Goldman also left without uttering a word.
Early Thursday, Sharon advisor Raanan Gissin told reported "the prime minister's surgery continues and according to reports by his personal physician is progressing in accordance with the doctors' expectations."
"We are talking about a fairly complex operation that may last several hours and a statement will be issued once it's over," he said.
Responding to a question about the decision not to airlift Sharon to hospital, Gissin responded: "I'm not holding an inquiry or dealing with speculations. The moment the surgery is over we'll examine this and provide all the information."
'Massive brain hemorrhage'
Sharon is suffering from a massive brain hemorrhage and is undergoing major surgery, Hadassah Ein Kerem Deputy Director Shmuel Shapira announced Wednesday night.
Earlier, Hospital Director Shlomo Mor Yosef told reporters the prime minister suffered a "significant stroke" and was being ventilated and anesthetized. Vice Prime Minister Ehud Olmert has been designated as a temporary Sharon replacement and will assume the premiership duties for the time being.
Senior officials at the Prime Minister's Office said "the situation is difficult. We are praying the internal bleeding Sharon is suffering can be stopped. We're trying to maintain our optimism but the situation is not looking good."
One of the prime minister's aides told Ynet: "The situation is not good. We're tense. It isn't easy facing this situation. We're concerned."
Read other Sharon reports on Ynetnews:
Numerous media crews are currently at Hadassah, where strict security measures were introduced and roadblocks set up by Jerusalem District police officers. Shortly after midnight, security arrangements were further modified and all pedestrian exits out of the hospital were sealed off.
Sharon rushed to hospital
The prime minister was rushed to the hospital earlier on his personal doctor's orders after feeling unwell.
Police guard entrance to hospital (Photo: AP)
Sharon's convoy arrived at the hospital around 11 p.m. The prime minister was taken into the trauma unit where he underwent tests by a team of experts called in to the hospital. Later, the PM underwent an MRI scan.
Earlier, the prime minister's doctor was urgently called to the PM's private residence in the South, the Sycamore Ranch, and ordered the prime minister be rushed to Hadassah.
Sharon first complained of feeling unwell around 9:20 p.m. Wednesday. His personal doctor, Professor Shlomo Segev was called in from his central Israel residence. At that point, the prime minister was conscious. Segev told Sharon's aides he decided to rush the PM to hospital for fear he suffered another stroke.
Policeman at entrance to emergency room (Photo: AP)
Cabinet Secretary Yisrael Maimon said that "in light of the fact the prime minister's treatment requires anesthetizing, I spoke to Attorney General Menachem Mazuz and Vice Prime Minister Ehud Olmert several minutes ago, and it has been decided to transfer all premiership powers to Olmert."
Sharon was taken to hospital in an intensive care ambulance stationed at his ranch on a permanent basis following his stroke. The prime minister was reportedly sitting down during most of the ride to Jerusalem.
Prof. Segev and Sharon's son, Gilad, rode in the ambulance with him, while the prime minister's other son, Omri, rushed to the hospital on his own.
Ronny Sofer, Efrat Weiss, Shani Mizrahi, Attila Somfalvi, and Meital Yasur-Beit Or contributed to the story