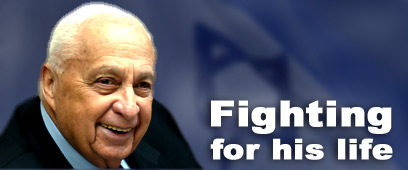 Iranian President Mahmoud Ahmadinejad
Photo: AP
Iran's President Mahmoud Ahmadinejad was quoted Thursday as saying he was hoping for the death of Prime Minister Ariel Sharon.

"Hopefully the news that the criminal of Sabra and Shatila has joined his ancestors is final," the semi-official students news agency ISNA quoted him as telling a group of Shi'ite Muslim clerics in Iran's holy city Qom.

Sabra and Shatila are the names of refugee camps in Beirut where pro-Israeli Christian militiamen massacred Palestinians after Sharon masterminded the 1982 Israeli invasion of Lebanon.

The former Revolutionary Guardsman has made a string of verbal attacks on Israel since taking office in August.

In October he called Israel a "tumor" which should be "wiped off the map." In subsequent speeches he suggested Israel should be moved to Europe or North America and called the Holocaust a myth.

He reiterated his remarks earlier Thursday in a speech from Qom broadcast on state television.

"Why should the Palestinian nation pay the price for your (Europe's) crimes?" he said. "Give a piece of your country to them (the Jews), and let it be finished. There is no need for meetings, conferences, peace treaties and so on."

"If it (the Holocaust) is not true and it is a big historical lie, why are you imposing such a corrupt and brutal regime on the nations in this region?"

"As soon as I asked this question, you said that Ahmadinejad is a warmonger and against human rights, so we should not allow his nation and government to have access to nuclear technology."

"Be sure that not only the Palestinian nation, but all Islamic nations, will not tolerate this occupier-regime (Israel) in the region for a minute," he said.