Photo from the video clip
A Dutch court sentenced a student to 40 hours community service Wednesday for making an anti-Jewish video called "Housewitz," that likened the Nazi death camp at Auschwitz, Poland, to a dance party, a spokeswoman said.
The 23-year-old student, 23-year-old Dickie Thijssen by Dutch media, said he had made the video as a gag. He offered his excuses, saying it was tasteless and offensive.
"He is incredibly sorry about it," his lawyer, R. Baumgardt, told Dutch daily Algemeen Dagblad. "He'd like to scream it from the rooftops."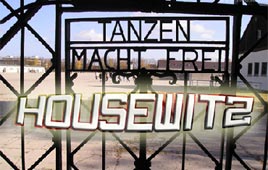 Horrific pictures

The clip, which was widely circulated on the Internet last year, purported to give details of a techno music festival called "Housewitz", a reference to techno "house" music. It used images of the Auschwitz death camp, turning the infamous slogan "Arbeit Macht Frei" (Work Shall Set You Free) into "Tanzen Macht Frei" (Dance Shall Set You Free).

The clip announced the DJ's Michel der Heidi and Adolf Von Bauren with Sieg Heil, and spoke about "seven million party people, set their body's on fire", and said the dresscode was "skinny Jew." It also included many horrific pictures of gas chambers, with statements such as "hot showers, free of charge" and "train stops at party ground".

1.1 million people were killed by the Nazis in Auschwitz-Birkenau

Outrageous hoax

The film advertized a ficticious dance party supposedly scheduled for May 4, the day The Netherlands on commemorates victims of war. The film was met with outrage by the Dutch justice ministry, the Auschwitz museum and the Polish foreign ministry, and a spokesman said at the time that authorities would examine the film to "check if its content is discriminatory."

In August last year, the Dutch Internet-regulating body decided to bring charges against the site that was putting out the video.

But the weblog geenstijl.nl refused to remove the clip with a so called 'educational' argument: "This clip shows how our educational system has failed."