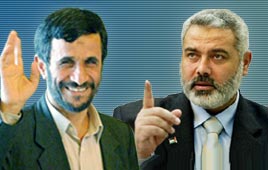 Ismail Haniyeh and Mahmoud Ahmadinejad
Photo: AP
Palestinian Prime minister Ismail Haniyeh called the United States an "enemy of Islam and Muslims" in an interview for Iranian news agency IRNA.

Haniyeh said that "the United States is doing everything to bring about the downfall of the Hamas government."

He also said that "Washington is influenced by the Zionists and the Jewish lobby."

On Tuesday, Haniyeh gave an interview to IRNA and said that "the Palestinian nation is an enemy of the American people but Muslims can't accept the American humiliation."

Haniyeh was asked about clashes between Hamas and Fatah, and said: "A civil war between Palestinians is a red line. There will never be a civil war because this term doesn't show up in our lexicon, the lexicon of jihad. The divisions will be solved with the help of logic, and not through guns."

He added: "We are a nation that sacrifices all of itself for resistance to the occupation. Our people know that we only have an enemy and it is the Israeli occupiers. We must fight only the occupation."

American-Israeli plan

Haniyeh claimed tat there were signs that there were elements who wanted to erode the security situation in the PA and cause the Palestinian government to collapse.

"It seems these sources are working according to a plan coordinated with the US and Israel, with an aim to weaken the Palestinian government and cause it fall," he said.

Responding to PA Chairman Mahmoud Abbas' initiative to hold a national referendum on the prisoner's document, calling for a Palestinian state on the 1967 border, Haniyeh said: "We believe that dialogue is the best way to reach common goals… at the moment a national referendum will increase pressure on the sides."

"Our message to the Israelis regarding the end of the conflict is clear: Israel must withdraw from all of the territories occupied in 1967, to give Palestinians the right of return to refugees, and to prepare a long-term cease fire," he said.