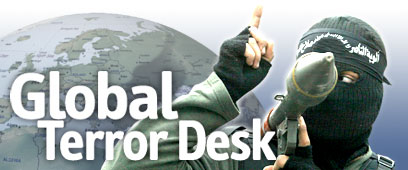 Photograph of Zarqawi's body as shown in Baghdad press conference
Photo: AP
As news of the death of Iraqi al-Qaeda terror chief Abu Musab al-Zarqawi filtered through jihadist internet forums, many members of radical organizations expressed 'joy' at what they described as Zarqawi's 'martyrdom' and imminent 'wedding' with virgins.

Sheikh Omar Bakri, a top pro al-Qaeda jihadist preacher who is based in Lebanon, and who has a number of disciples in Britain, was quoted by one of his followers on the UK-based Muntadaa internet forum as saying that al-Zarqawi is now being 'married' to virgins in heaven, the fate he said awaited 'martyrs' of Islam.

Global Terror

What to expect next? Terror experts speak to Ynet on effect al-Zarqawi's demise will have on al-Qaeda, Islamic terrorism, and what it means for Israel

"It is a good news Alhamdulilaah (thank God), his wedding start as shaheed (martyr), and his deputy confirm the news," read a statement attributed to Bakri

Bakri was also quoted as vowing that "the jihad will continue," and expressed gratitude that al-Zarqawi "was not arrested."

Another member of the forum posted a statement by The Media Wing of al-Qaeda in Iraq, which read: "We confirm the martyrdom of our mujahid (holy fighter) Sheikh Allah willing, Abu Muab al-Zarqawi on the land of the two rivers (Iraq)."

'Death is life'

The statement added: "The death of our leader is life to us and only adds to our determination in continuing in the jihad till Allah's word is the highest."

The organization also discussed the formation of an "umbrella organization…" which it named as "Maliss al Shura lil Mujahidee," and named a successor to al-Zarqawi, "Sheikh Rashed Al Baghdadi."

The new organization was formed "to act as a precursor to the first Islamic Land that shall be formed on the land of the two rivers," al-Qaeda in Iraq said.

Sheikh Baghdadi is the head of the Shari'a Committee, part of al-Qaeda's forces in Iraq.

"We promise Allah that we shall continue upon our path to establish the rule of his law on the land of the two rivers or be destroyed without it… and we say to our sheikh and leader Osama Bin Laden may Allah preserve him that your soldiers in al Qaeda in the land of the two rivers are persevering on the same plan that you drew up for our sheikh Abu Musab, and we shall continue the duty of our sheikh," the statement concluded.

Other members of the board attempted to keep morale high. "Oh brothers, don't let the news may you feel sad or weak," wrote one user, who called himself "Farhan AK47."

Farhan added: "I can't wait to see these dumb kafirs (infidels) run like cowards out of Iraq. Soon the victory is near inshallah (with the help of God)."

Not all of the members of the jihadist board were happy to learn of the assassination, however.

"Truly it has saddened me," wrote one member.