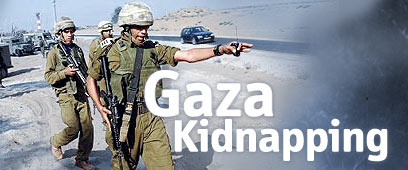 Lieutenant Hanan Barak, 20, who was killed during Sunday's attack
Reproduction photo: Uriel Hershko

'Why must our children die?' Sergeant Pavel Slocker
Photo: Uriel Hershco

Tomer Eisner, Hanan's close friend
Photo: Uriel Hershco
Family, friends mourn fallen soldiers
Father of Hanan Barak, who was killed during Sunday's attack on IDF outpost, says of his son 'he was larger than life; a man of principles.' Barak's girlfriend, Orit: We promised each other that this would be our summer. Mother of Pavel Slocker, who was also killed in incident, says 'How can it be that no one saw nine terrorists approach the tank?'
Relatives and friends of Lieutenant Hanan Barak, 20, who was killed during Sunday's attack on an IDF outpost near Gaza, flocked to his family's Arad home upon hearing of his death.

Hanan's father Dudi said his son was set to turn 21 in August.

"He is larger than life," Dudi said, still unable to use the past tense when describing his son. "He is a man of principles who knew what he wanted; he had a long plan for the future.

"He is such a young man, with a broad and clear outlook on many issues. Israel lost an amazing officer, and I'm not saying this because I'm his father, but because he gave us 21 amazing years."

Dudi Barak also served in the Armored Corps, as did Hanan's sister and brother. Hanan wanted to break the mold and bid for the prestigious Air Force cadets course, but did not succeed due to an eye problem

"He was no star in school," Dudi Barak continued, "but from the moment he entered army life a completely different Hanan was revealed – responsible, educating, excelling."

Hanan was the youngest of three siblings.

'He loved his army service'

Tomer Eisner, Hanan's close friend, told Ynet, "He was an unbelievable fighter; he loved the army and thought of a military career. If there was anything Hanan took seriously in life - it was the army. Already in the 12th grade he knew he wanted to be an officer in the Armored Corps.

"He was a man with the biggest heart."

Hanan met his girlfriend of the past two years, Orit Jino, during basic training. Love blossomed, and Orit relocated from the north to Arad. She said the couple had big plans for the summer: "We promised each other that this would be our summer, that we'd be together and make up for last summer when Hanan was in an officers' course," Orit said.

"We planned on going to the beach, hug at sunset and move in together."

Hanan Barak's funeral will be held at 8 p.m. at the cemetery in Arad.

In the Dimona home of Sergeant Pavel Slocker, who was also killed in the Kerem Shalom attack, family members had a hard time accepting the news of his death.

"Pavel planned to go to medical school following his release from the army," Pavel's brother, Victor, said. "My brother was big and beautiful, and he loved his army position as a tank driver."

Pavel's mother Lidia said she does not understand how terrorists were able to infiltrate the outpost and approach her son's tank.

"How can it be that no one saw nine terrorists approach the tank? They explained it to us, but I am not satisfied. Why must our children die? We must attack with more might so incidents in which soldiers are hurt will not reoccur."

The principal of Pavel's former high school, Eliezer Ben-Shitrit, said Pavel was one of only five students who received a full scholarship to study law at Bar-Ilan University.

"Pavel is the first, and hopefully the last graduate of the 2004 class whose picture is added to the Leiman School's remembrance hall," he said.

Pavel Slocker's funeral will be held on Monday at 10 a.m. in the Dimona cemetery.