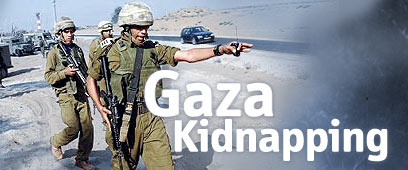 'We're working to resolve incident.' Hamad
Photo: AP
Hamas to factions: Protect kidnapped soldier
PA government spokesman tells Gaza press conference following Kerem Shalom incident 'occupation army says there is a kidnapped soldier. We have not received an official response from the factions of the resistance – but if this is true, then we call on the factions to protect the soldier'; calls on Israel not to escalate situation
Razi Hamad, a spokesman for the Hamas government, said Sunday during a Gaza press conference following the attack on an IDF outpost in Kerem Shalom, "the occupation army says there is a kidnapped soldier. We have not received an official response from the factions of the resistance – but if this is true, then we call on the factions to protect the soldier."

Kerem Shalom Attack

In special press conference, IDF chief of staff says Hamas, PA responsible for Palestinian terrorists' combined attack on IDF post near southern Gaza Strip, for kidnapped soldier's fate; officer, soldier killed in attack, several troops wounded

"If the Palestinian factions are indeed holding the kidnapped soldier, we call on them to treat him well and not harm him," the spokesman added.

However, Hamad did not officially confirm that the soldier, Gilad Shalit, was being held by a Palestinian organization, nor did he disclose any information on his condition.

During the press conference Hamad called on Israel to avoid escalation and refrain from carrying out attacks against the Palestinians.

"The Palestinian government is following the matter closely and is holding talks with the Palestinian Presidency, with Egypt and other elements in a bid to resolve the matter," he said.

'Israel's threats do not worry us'

Earlier Hamas movement spokesman Sami Abu Zuhri told Al-Jazeera that the attack on the IDF post in Kerem Shalom represented "a fulfillment of the duty to the girl Huda Ghalia whose family was killed in front of her eyes."

"It was also carried out due to the international community's silence amid the international plot against the Palestinian nation," he added.

"Hamas has not announced an agreement on a ceasefire, but the group has kept quiet in the last six months – quiet that was not respected by the occupation. Where was everyone when the Ghalia family was killed. There were no Qassam rockets then."

When asked for his response to reports of Israel's intent to operate in Gaza, Abu Zuhri said "Israel's threats do not worry us because they haunt the entire Palestinian nation, not only the leadership."

Abu Ubeida, a spokesman for Hamas' military wing, the Izz al-Din al-Qassam Brigades, said that his organization will not disburse information regarding the fate of the Israeli soldier that was kidnapped during the attack without getting something in return.

The Palestinian media and local radio stations quoted sources in the organizations that took part in the attack as saying they were providing medical care for the kidnapped soldier in a bid to use him as a bargaining chip in a future prisoner exchange deal.