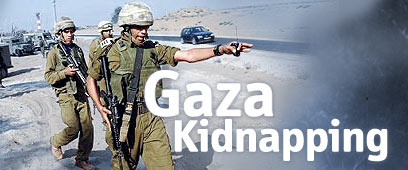 IDF soldier Gilad Shalit kidnapped from Kerem Shalom post
Reproduction photo: Hagai Aharon
The IDF tightened security around the Gaza Strip following fears that kidnappers of soldier Gilad Shalit will attempt to smuggle him out of Gaza.

The Navy ordered a shutdown on Gaza for Tuesday night, and has increased patrols of navy ships along the Gaza coast. Palestinian fast boats have been banned, and only small fishing boats with limited speed are allowed on the sea.

The Navy is preparing for the possibility of an attempt to smuggle the kidnapped soldier out of Gaza via the sea, and instructions have been sent to ship commanders.

The naval closure is similar to that carried out by the Navy during the disengagement plan, when the IDF worked to prevent terror attacks from the ocean.

Meanwhile, the IDF has transferred a request to the Egyptian security forces to tightly close off the Philadelphi Route in southern Gaza for the same reasons.

Additional operations are being carried out along the Gaza-Egypt border in order to prevent the smuggling of the soldier outside Gaza.

"Taking the soldier out of the Gaza Strip could complicate the matter and make it more complex," a military source told Ynet.

"At this stage attempts are being made on the diplomatic level to return him, while at the same preparations are being made by the IDF for any necessary operation. Taking him to another place and the involvement of other sources in hiding him is unwanted and therefore our role is to prevent this," said the source.

'Preparing for every possibility'

Meanwhile, the IDF is continuing to concentrate many forces around Gaza, in numbers not seen since the disengagement.

Many tanks and other armored vehicle have been positioned in the Nahal Oz area. Infantry corps, the engineering corps, and other forces have begun streaming into the area.

"We are preparing for every possibility, in the short-term and the long-term," said the IDF source.

A senior IDF source said that judging from the incident's circumstances, he could say with certainty that the terror cell planned to kidnap a soldier, with approval from the highest ranks in the Palestinian Authority Hamas members.

"This is not something that is decided in the heat of battle," he pointed out.

The IDF also believes this morning that the terror cell set up a secret hiding place to hold the soldier, and is heavily compartmentalizing all of its members so that they do not reveal the soldier's location.

The Shin Bet and IDF intelligence are attempting to find every fragment of intelligence that could lead to the soldier's location.