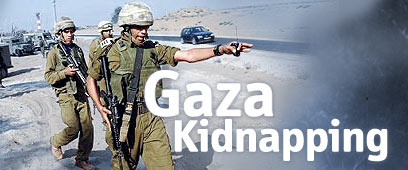 'Such an operation demands good intelligence.' Zichroni
Photo: Ronen Lidor

Gilad Shalit
Reproduction photo: Hagai Aharon
Attorney: Targeted kidnapping necessary
Amnon Zichroni, who took part in past prisoners exchange deals on Israel's behalf, says regarding Gilad Shalit kidnapping 'as soon as we know which organization is behind the soldier's kidnapping and who the organizations deems important, then we will know who to kidnap'; adds: Military intervention would be dangerous because soldier is injured
Attorney Amnon Zichroni, who took part in past prisoners exchange deals on Israel's behalf, says Sunday "the targeted killings method has not proven itself and turned out to be completely ineffective; therefore, I suggest a different method of action – even if it will not be implemented in the immediate future: Targeted kidnappings.

The Family

(VIDEO) Noam, Aviva Shalit publish letter addressed to kidnapped son, his abductors. 'we want you to know that the greatest efforts are being carried out so that you can return home to the Galilee,' they say, adding 'We are confident that whoever is holding you also has a family '

"Such an operation demands good intelligence. As soon as we know which organization is behind the soldier's (Gilad Shalit) kidnapping and who the organizations deems important, then we will know who to kidnap," he said.

Zichroni said Israel has attempted such targeted kidnappings in the past, such as in the Ron Arad affair.

"When I was involved in efforts to release Arad Israel kidnapped Lebanese guerilla leaders Sheikh Abdel Karim Obeid and Mustafa Dirani, and although the kidnappings did not bring about Arad's release, they did help in obtaining information," he said.

What if the element behind the kidnapping is unknown?

Then you can still kidnap – even people abroad. I don't want to mention names, but it is definitely possible.

Elements working for Hamas?

Again, I don't want to mention names, but we can kidnap members of Hamas-affiliated groups.

When asked to describe what he believes is going on behind closed doors, Zichroni says, "the question is whether anything is in fact going on behind closed doors. There are two key elements to the current crisis: Time and intelligence- because it is important to know which organization is holding the soldier; as soon as we know this, we also know what kind of pressure can be applied. If it is an organization whose only objective is to deteriorate the Israeli-Palestinian situation, that is one thing, but if it is a Hamas-affiliated group, this is another thing.

In your estimation, what is the extent of intelligence information Israel has on the kidnapped soldier's condition?

I do not know for sure because I am not directly involved. Initially Israel claimed that the soldier is alive and injured, but perhaps this statement was aimed at pressuring the Palestinians and holding them responsible, but as the hours pass and I listen to the statements being made, I reach the conclusion that the soldier is alive. If the organization behind the kidnapping is isolating itself and avoiding contact with outside sources, I suppose this will make it harder to gather information.

Is a military operation a possibility in such a situation?

At this time military intervention would be dangerous because there is an injured soldier, therefore all other options must be exhausted, including kidnappings, as the targeted assassinations have not proven themselves. In any case, the time factor is crucial due to the soldier's injury, and I suppose his captors will have to drag him from one place to another.