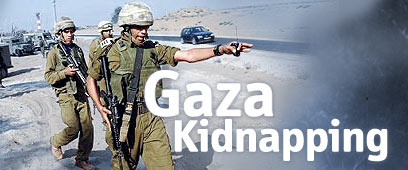 'Gilad is alive.' Ehud Olmert
Photo: Gil Yochanan

French Ambassador to Israel Gerard Araud

Kidnapped soldier Gilad Shalit
Reproduction photo: Hagai Aharon
Olmert: Prisoner release out of the question
Prime minister categorically rejects Palestinian offer to release abducted soldier Gilad Shalit in return for freeing all female security prisoners. Israel will not show restraint much longer - Gaza operation imminent, Olmert says. Egypt, France join negotiations for soldier's release
The issue of releasing Palestinian security prisoners in return for abducted soldier Gilad Shalit's freedom is not on Israel's agenda, and time is running out. These were the two central messages Prime Minister Ehud Olmert conveyed during a speech addressing the Jewish Agency conference in Jerusalem Monday evening.
Olmert said, "We see the Palestinian Authority headed by (Palestinian President) Mahmoud Abbas and the Palestinian government as responsible for the terror attack yesterday, for the Israeli soldier's abduction and for his safe and sound return to Israel."
"It is not a matter up for negotiation, development or arrangement. It is a matter of basic obligation to conform to the elementary rules of decency of the international community, and those who want to be part of it," Olmert said.
Olmert warned the Palestinians, "The violence and difficult antagonism which took place yesterday morning obligates us to respond. I am saying now that we will retaliate, and we will respond to every terrorist, to every terror organization, in every location. They know we can reach them even when they think they are protected."
"We are operating under pressure, and therefore we weighed our next moves carefully. But very soon we will launch an inclusive, severe and difficult operation. We won't wait forever, we won't turn ourselves into an object of extortion for the Hamas. We will act with all the forces available to us to stop terrorism, and to return the kidnapped soldier home to his family."
According to Olmert, Israel has already taken initial military steps. "The Gaza Strip is completely closed off, on land and sea, and no one can enter or exit. This is the first in a series of steps, which we will consider patiently, so that it is clear to you that terrorism has to stop. The State of Israel will defend itself and its citizens in every way to stop this blood-thirsty extremism," the prime minister said.
Hamas: Release female prisoners
Palestinian armed groups on Monday offered to release information on kidnapped soldier Gilad Shalit if the Jewish State releases all female and minor Palestinians imprisoned in Israel.
Hamas, the Popular Resistance Committees and the Army of Islam, the three groups who claimed responsibility for Sunday's attack in Kerem Shalom, made the offer in a joint statement.
"The Israeli occupation will receive no information about the soldier unless it promises to immediately release all female prisoners," the statement read.
Site of Sunday attack at Kerem Shalom (Photo: Reuters)

The Israeli Prison Service has 8,500 Palestinians security prisoners, among them 100 females and 313 minors. The IPS also said that they received no request to release anyone.

In the statement, the groups said the decision to make the offer was made in compliance with international demands that they release information on the fate of Gilad Shalit.

A Hamas activist told reporters in the Gaza Strip that the eight gunmen who carried out Sunday's used other channels than an underground tunnel to infiltrate into Israel.

PM: Relentless efforts to bring Gilad home

Prime Minister Ehud Olmert phoned the home of kidnapped soldier Gilad Shalit Sunday and told family members that relentless efforts on both diplomatic and intelligence fronts are being made to bring Gilad home safely.

The prime minister told family members that Gilad is alive and apparently lightly injured.

French Ambassador to Israel Gerard Araud arrived at the Shalit family home in Mitzpeh Hila to offer his support. Several members of the western Negev community hold French citizenship.

Egypt and France are in the midst of intense negotiations with Palestinian elements regarding the soldier's release. According to Araud, Gilad Shalit also holds French citizenship, and therefore 'it is only natural that France would be interested in his condition."

Fourth Crew Member

Roee, the fourth soldier in tank attacked at Kerem Hashalom, is recovering in hospital. He only learned of death of his two comrades this morning

Meanwhile, Foreign Minister Tzipi Livni spoke with French counterpart Michel Barnier, who described the affair as a "human drama" and requested that the injured soldier's captors treat him well and then release him.

Livni told 60 ambassadors and foreign representatives that the "the next few hours are critical."

She asked the ambassadors to turn to their countries and exert pressure on the Palestinian Authority to release the kidnapped soldier. The ambassadors expressed their sympathy with Israel and some of them offered help in efforts to release the soldier.

The European Union called for the immediate release of the kidnapped Israeli soldier. "Gilad Shalit should be released immediately. Kidnapping of any hostage is a despicable act. But, I especially emphasize this particular kidnapping since it is the first in 12 years," said in Brussels European Union Commissioner for External Affairs Benita Ferraro-Waldner.

At the same time Ferraro-Waldner called on Israel to show restraint. "We are hoping that the Israelis will show restraint, in light of the recent events, and pay special attention to the need to prevent hurting innocent people."

Hagai Einav contributed to the report.