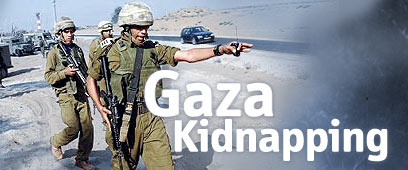 IDF tanks ring the Gaza Strip
Photo: Reuters

Soldiers brace themselves for incursion
Archive photo: Amir Cohen
Dozens of tanks and many soldiers arrived on Monday to the assembly point north of the Gaza Strip, in preparation for a possible incursion into Gaza.

The improvised "small city" absorbed many tanks, APCs, and heavy equipment. IDF forces from Givati, Golani, and tank brigades arrived to the area. Soldiers were busy all day attending briefings about safety and preparing the equipment.

The logistics division started supplying tents, commodes, showers, generators, food and even a small canteen.



IDF tanks prepare for deployment (Photo: Amir Cohen)

Givati division commander Colonel Yoel Stark arrived to see up close his troops' preparation. Other officers arrived later, mainly from the logistics division to verify that all the equipment is proper and ready for battle.

Morale among the soldiers was high despite the very hot weather. "We are preparing for everything and if we have to go in and bring the solider home, we will do it," said one soldier.



Soldiers review tank operating procedures (Photo: Amir Cohen)
The IDF's Southern Command continued its measures and preparation for a possible military action if such a move is ordered by the security cabinet. In addition to the forces in the south, special forces were on alert, preparing for specific missions. If the IDF enters Gaza it is estimated that in the first phase activity will be mainly concentrated in the northern Gaza Strip and will expand later to the southern parts.
Officers in the Southern Command said troops were organizing for a number of possible operations - some of them large-scale incursions and others on a smaller scale. Another strategic possibility the army was prepared for was a gradual operation that would start small but expand. "We are organizing all forces here, and we will be ready to carry out any assignment," the officers said.
Tanks ready (Photo: Amir Cohen)
Simultaneously, the army tightened security around the Gaza Strip by sea as well, to prevent the possibility that soldier's abductors may try to smuggle him out of the Strip. The navy was directed to impose a closure on Gaza by sea already Monday night, by concentrating navy ships around Gaza's beaches. Palestinians were also barred from using motorboats, and were permitted only to fish in small boats capable of limited speeds. The army asked Egypt to hermetically seal off the Philadelphi route between southern Gaza and Egypt for the same reason.
Earlier Monday, Prime Minister Ehud Olmert, speaking in Jerusalem, said: "I ordered army commanders to prepare our forces for a long and ongoing military operation in order to strike terror and its commanders. We will get to everyone wherever they are. There will be no immunity for anyone."