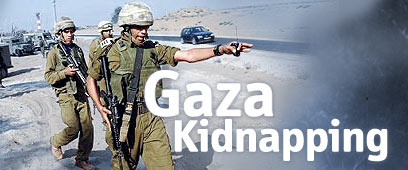 Palestinian gunmen
Photo: AP
A spokesperson for the Popular Resistance Committee told Ynet on Monday evening that his group kidnapped a settler in the West Bank. Spokesperson Mahmoud Abed Alal said he would release more information on the kidnapping later Monday night.

The Israel Defense Forces said it was aware of the announcement but could not yet confirm that an Israeli citizen had been kidnapped, adding that they had received no report on a kidnapping from settlers. Settler leaders also said they are unaware of a kidnapping attack.

A PRC official told Ynet his group was only ready to negotiate "the price" that Israel is willing to pay in return for the release of the soldier and settler.

He said Palestinian groups would continue to kidnap Israelis "to bring an end to Israeli aggression against the Palestinian in the West Bank and Gaza and to bring about the release of Palestinian prisoners."

The PRC spokesperson refused to say where in the West Bank the settler was kidnapped, but other sources said the incident took place in El-Khader, Bethlehem or Nablus.

He also refused to note whether the group intended to release photos of the alleged hostage or a recorded tape confirming the kidnapping.

Website statement

The Salah a-Din Brigade, the military wing of the Popular Resistance Committees, published an official statement on their website announcing the kidnap of a settler. The announcement noted that the abduction was carried out as part of their operation "Cavaliers' Wrath," which aimed to avenge Israel's targeted assassination of organization leaders.

"One of our cells in the West Bank managed to kidnap a settler as part of a chain of responses against the Zionist aggression, and to avenge the blood of Palestinian shahids," the statement said.

"We have information on the kidnapping, but we will not share it at this point so that the ball remains in the court of the Zionists, and so the Zionist security forces continue to be confused. We will let the operations on the ground speak for us," the message said.

Eyewitnesses said the army set up surprise checkpoints across the West Bank in a bid to intercept the kidnappers.

The Popular Resistance Committees is the group that claimed responsibility for the kidnapping Sunday of Gilad Shalit, along with Hamas' military wing and a largely unknown group called Islam's Army.

Palestinian sources and witnesses said the IDF was quick to setup surprise checkpoints in many central routes in the West Bank, and has increased its presence in access routes, exits, and entrances to many areas.

The second alleged kidnapping comes just hours after Prime Minister Ehud Olmert ruled out conceding to Hamas' demands to release all female security prisoners in return for information on the abducted soldier.

Just ten days ago two Israeli settlers - adolescent girls - escaped a kidnapping attempt while hitchhiking in the West Bank.