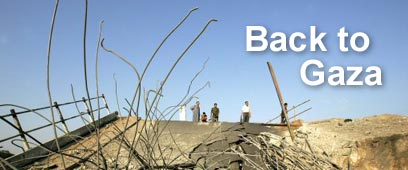 Palestinian shows off explosive device
Photo: Reuters
Palestinian factions in northern Gaza prepared Wednesday for a wide-scale IDF operation. The Palestinian armed organizations are increasingly fearful of an IDF entrance into Gaza, after the IDF received a green light to widen Operation Summer Rain.

The operation began with the entrance of IDF forces into southern Gaza, and the bombing of bridges and a power station.

• Gaza kidnapping - Full coverage

At a joint press conference held by armed organizations, the groups announced their joint preparations in order to repel the IDF operation.

They said that Israeli side should expect surprised and unprecedented resistance, which will cause many casualties among IDF soldiers.

The IDF has not yet set its exact date for the entrance of forces.



Palestinian gunmen prepare for IDF incursion (Photo: Reuters)

Unlike the smooth entrance into the Dahaniya area, where the army hardly saw any resistance by Palestinian gunmen – the IDF knows that the entrance into the north could be much more complex, and slow, due to the large number of terror cells in the area and explosive devices planted on the ground in order to harm forces.

The Air Force dropped leaflets in northern Gaza ahead of the operation, in which it called on residents to abide by IDF instructions and refrain from wondering around any area in which forces are operating in. The leaflets also warned the forces are working to free the kidnapped soldier, and added that anyone who interfered with the operations is exposing himself to danger.

An al-Aqsa Martyrs Brigades Member, Abu Ahmed, told Ynet that despite the threats being heard, local organizations are preparing for the IDF incursion. "In previous invasions the Israeli side absorbed heavy losses in armored personnel carriers and jeeps that blew up, but this time we promise that the losses on the Israeli side will be much larger. We are preparing suicide bombers, car bombs, tunnels, and booby trapped donkeys. Everything that the Israelis encounter could turn out to be a deathtrap," he said.

'Massive amounts of rockets'

Abu Ahmed said that the Palestinian fighters will use massive amounts of rockets and mortars against the IDF forces that will advance towards them. "We will use tonight and in coming days in weapons and rockets that have not yet been operationally used. The Israelis won't know from where they are being it. Northern Gaza will turn into one large cemetery for the invaders. We also commit to carry on firing rockets on Sderot and Ashkelon during the Israeli operation."



IDF forces outside Gaza (Photo: AFP)

The al-Aqsa Martyrs Brigades commander refused to address reports that other senior figures in his organization succeeded in creating rockets that could contain chemical or biological agents. "I don't want to address what we have or don't have. The coming hours will do the talking," he said.

Abu Ahmed added that the IDF is trying to turn the kidnapping of Corporal Gilad Shalit into an embarrassment. "I promise that the mujahadeen (holy fighters) will do everything so that the result will be the opposite. Our main mission, other than repelling the invasion, is to capture as many Israeli soldiers as possible."

He said that every Palestinian organization will take part in the fight against the IDF, despite the recent tensions between Hamas and Fatah.

"The IDF attack in Gaza and its intention to attack again only show us that the Palestinians must stop losing energy on internal and unnecessary divisions. We know that the enemy does not differentiate between an al-Aqsa activist and a Hamas activist, and therefore one of the good things that will grow from this battle is that all of the organizations will again be one body, after the unfortunate weeks we had of internal fighting," Abu Ahmed added.

Rolling into Gaza

Israeli tanks and troops rolled into the southern Gaza Strip early Wednesday, after mediators said hope of recovering kidnapped soldier Cpl. Gilad Shalit through talks was running out.

IDF artillery shells were fired toward Gaza as the ground forces entered the Strip.

The incursion came shortly after Palestinian security forces deployed near the Gazan border town of Rafah said they were ordered out by the Israeli military.

Israeli Air Force planes targeted missiles at three bridges in the central Gaza Strip shortly before midnight Tuesday. After completing the deployment of forces to the area, the army entered "battle regulations" – or the state of preparation to launch an offensive.

According to the IDF, the aim of blowing up the bridges was to minimize the chances that Shalit, whom the expected incursion aims to rescue, would be moved from place to place by his abductors. The bridges lie on one of the main roads linking the north and south of the Gaza Strip.

It is estimated that the next phase of the operation will include IDF forces entering the northern Gaza Strip and taking strongholds. First, tank and combat engineering battalions along with infantry units will create a "security zone" which will expel the Qassam firing squads from the northern Strip. The IDF is also expected to create "zone limits" in the Strip in order to restrict movement.

Hanan Greenberg contributed to this report