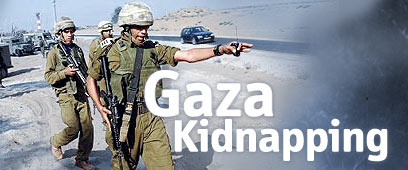 Metzger during Moscow conference
Photo: Shimon Malka
Ashkenazi Chief Rabbi Yona Metzger called during a meeting of international religious leaders in Moscow for the release of kidnapped soldier Gilad Shalit.

Metzger specifically asked the Iranian representatives on hand to exert their influence to help bring about Shalit's release.

During the event, which was organized by the Russian Orthodox Church on the suggestion of Russia's Inter-Religious Council and includes representatives from 40 countries, including Syria, Iran and Saudi Arabia, Metzger said political disputes should be left behind and that 'countries must stand united around their belief in one God.'

The rabbi said as he waved a photo of Shalit: "How has this young man sinned that his kidnappers want to kill him after last week they murdered an 18-year-old (Eliyahu Asheri) just because he was Jewish?"

Russian President Vladimir Putin said during his speech that he was moved by Metzger's words.



Metzger presents photo of Gilad Shalit as Putin (left) looks on (Photo: AP)

"Your words have touched my heart, and they are also very relevant to Russia," he said, alluding to Russia's ongoing battle against the Chechen rebels and the murder of Russians by terrorists in Iraq.

Metzger also called for the establishment of a permanent forum of religious leaders, similar to the UN in its format, which would work to promote peace between nations.

Putin promised that he would raise the ideas presented during the conference at the upcoming G-8 summit of industrialized nations, which is set to be held later this month in St. Petersburg, so that "the political leadership will adopt the decisions of the spiritual leadership."