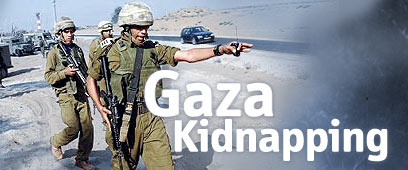 Noam Shalit: What are they waiting for?
Photo: Hagai Aharon

10 days since Gilad's kidnapping
Photo: Noam Rotem
Noam Shalit, father of kidnapped soldier Cpl. Gilad Shalit, called on the government to negotiate with his son's kidnappers, even if the price for his safe release is freeing Palestinian security prisoners.

After 11 days of uncertainty, Shalit doesn't understand why such negotiations are not yet underway, and hopes that talks are being held in secret channels, without the family's knowledge.

In a conversation with journalists waiting at the entrance to his home, Shalit was directly questioned whether he thought Israel should talk with Hamas regarding releasing prisoners in return for Gilad's freedom.

'Everything has a price'

"Everything has a price," he responded. "I don't believe there can be any process to gain Gilad's release that won't cost a price. That's not how things work in the Middle East. The question is only – why are they still waiting? I want to believe that negotiations are being held, in some secret channel, that we just haven't been told about."

"The release of prisoners was on the agenda before the incident, as a goodwill gesture, so there is no reason to remove it from the agenda after it with the aim of releasing a soldier sent by the country to the frontlines," Shalit said.

He added, "I'm ready to speak with the kidnappers if it were possible. I have nothing to offer or give them, but we could talk. In the end, we will have to speak with these organizations directly or indirectly."

Concrete offer

The concerned father called on Hamas to make a concrete offer to the Egyptian mediators, and not via their Internet sites or their associates. "It has to be a serious offer that Israel can agree to, not a humiliating offer," Shalit said.

In response to a question from a Ynet reporter on the effect of the IDF operation in Gaza on Gilad's situation, Shalit said he was not familiar with the intricate details of the operation, but as far as he knew, the operation intended to combat Qassam fire and not solve the kidnapping affair. "But every additional factor causes concern for further endangerment. Of course we are more and more concerned about Gilad's fate," he added.

Responding to another question, Shalit described the situation in the family home. Gilad's mother was having great difficulties dealing with the situation, he said, and she was mostly concerned with Gilad's physical wellbeing and not the political and security processes for his release.

Head of the Manpower Division in the IDF Major General Elazar Stern visited the Shalit family Thursday morning. Shalit said that General Stern did not provide any new information on Gilad's condition, and the family has actually not received any information on his condition since 11 days ago.

"Maj.Gen. Stern came as a representative of the army to express his support and strengthen us," Shalit said.