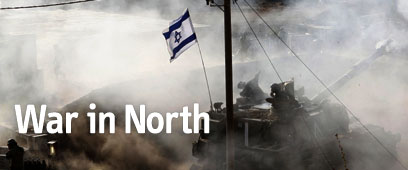 Prof. Itamar Rabinovich
Photo: Israel Hadari

Nasrallah. Wide smile
Photo: Reuters

Iranian President Ahmadinejad
Photo: Reuters
It wasn't a new scenario: Wednesday afternoon, Hizbullah leader Hassan Nasrallah arrived at a press conference initiated by the organization in Beirut, wearing a smile as wide as a groom on his wedding day. As expected, Nasrallah spoke arrogantly about Israel and what's coming to it.

"If you think to find a solution to the problem of the two kidnapped soldiers, you're making a bitter mistake. You want a fight? We have a surprise for you," he said.

Nasrallah also couldn't to resist expressing contempt for Israel's leadership, past and present: "Israel has a new prime minister, Ehud Olmert, and some other new ministers, like Defense Minister Amir Peretz. Go ask your predecessors about their experiences in Lebanon," he added, offering to instruct, personally, in an introductory course on the Middle Eastern jungle.

At times it's unclear where the image of the cunning leader ends and the actual leader begins. Is he truly a regional leader as he claims? This begs the additional question: Should Israel confront him at this time, before he gets bigger and stronger?

Tel Aviv University President Prof. Itamar Rabinovich supports an immediate redesign of the rules of the game, and not just against Nasrallah, but also his patron in Damascus.

Nasrallah notices that Israel deterrent force has eroded

"Now is the time to design new rules of the game in Lebanon. Any time that passes makes the price grow higher," Rabinovich - a world-renowned Middle East expert specializing in Lebanon and Syria and a former ambassador in Washington - told ynet.

"There is no doubt that Israel's deterrent force has eroded and even Nasrallah himself, in reference to the new and inexperienced Israeli leadership, implied that the rules of the game can be changed. Therefore, Israel needs to draw the red lines right now," he said.

When asked to define the essential objectives of Israeli operation, Prof. Rabinovich doesn't forget that, despite Nasrallah's haughty words, it's safe to assume that there are one or two other sources who are stirring things up.

"There are four objectives here: Hizbullah, Lebanon, Syria and Iran. We don't have the tools or the desire to confront Iran, certainly not because of its nuclear program, but regarding the other three, we have a wide range of possible actions. Among them, the Lebanese government seems to be the most comfortable point of contact, even though the critical POCs are Syria and Hizbullah. Regardless, we need to react harshly, but effectively, not just to vent our anger."

Clear that Syria gave its blessing to this operation

As Hizbullah convened a press conference in Beirut on Wednesday, it was difficult not to remember another press conference, not far from there, in Damascus, that had taken place a day prior. Hamas political leader Khaled Mashaal - despite decisive claims that he had gone underground, fled to northern Africa and feared for his life - did not hesitate to stand in front of the cameras in broad daylight and threaten Israel. In both cases, it would seem that, even if Syrian President Bashar Assad is not involved in the specific details of the terror activities, he cheers the wagon along on its road to destruction.



War on Lebanon border (Photo: Reuters)

Prof. Rabinovich emphasizes this: "It is clear that Syria gave its blessing to this operation. Recall that, following the war in Iraq, then Secretary of State Colin Powell went to Damascus and demanded that Assad close Hamas offices in the capital. Assad supposedly agreed to close these offices, but, as usual, turned a blind eye to their continuing operations.

"In the Tuesday press conference, Mashaal thanked and praised Assad for this behavior. There is a feeling of security in Syria, who is backed by Iran, which sends the message to the United States: 'We're not afraid.' Only half a year ago, Assad's regime seemed ambivalent regarding this stance, but no longer. Without a doubt, the planning and implementation of these operations originated in Damascus."

Despite this, Prof. Rabinovich doesn't seem particularly impressed with Nasrallah's growing reputation. In his eyes, Nasrallah is no modern-day Salah al-Din, but rather a seasoned regional contractor for Iran. The primary leader in this area is Iran, who wishes to become a regional hegemon. Iran acts in a different way on different fronts, acting one way in Lebanon and another in Iraq and keeping in mind that Lebanon provides access to the 'heart' of the region.

"Nasrallah, in my opinion, is an inter-Lebanese leader, not a regional leader. In truth, he's even closer to being a marionette for Iran and Syria. This Nasrallah, who is currently playing the role of punisher of Israel following their Gaza operations, is not telling the whole truth but rather has an agenda. He is a product of an Iranian-Shi'ite culture that sends out simultaneous mixed messages," said Rabinovich.

Do you believe him when he says 'we have a surprise for you'?

"I believe that he intends for us to receive a 'surprise', but this is not a contradiction. Recall that when we took out Hizbullah leader Abbas Musawi, it was Iran who executed the two subsequent terror attacks in Argentina. Thus, at this time, too, a second and third front could develop. At any rate, the political leadership in Israel will need to determine whether to hit Mashaal now or continue to live under the threat of Katyushas."