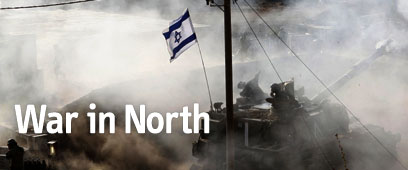 Fighting in the north
Photo: AP

Lebanon asks for ceasefire
Lebanese government asks or ceasefire to immediately end IDF attacks in its territory; Lebanon demands that UN convene emergency session to discuss Israeli offensive. UN Secretary-General Annan says he is dispatching three-person delegation to Middle East in attempt to ease tensions. Iranian foreign minister: Zionist regime has no choice but to free Palestinian, Lebanese prisoners in exchange for IDF soldiers' release
Lebanese Communications Minister Ghazi Al-Aridi told local media outlets Thursday afternoon that his government has asked for a ceasefire to immediately end the IDF attacks in its territory.

Al-Aridi said his country is interested in an immediate and total ceasefire and will make use of all available channels towards this end. Meanwhile, the Lebanese government has demanded that the UN convene an emergency session to discuss the Israeli offensive.

The Katyusha fire on Israel is continuing, as are the Israeli bombardments in Lebanon. As a result of the escalation UN Secretary-General Kofi Annan has announced that he is dispatching a three-person delegation to the Middle East in an attempt to ease tensions.

International Criticism

French Foreign Minister Douste-Blazy slams 'disproportionate act of war'; Russia joins criticism of Israeli offensive, while EU calls to avoid civilian casualties. US: Israel has right to self-defense

A spokesman for Annan said the delegation will first visit Cairo, where it will meet with UN representatives, Egyptian officials and foreign ministers from Arab League countries, who are expected to meet in the city on Saturday.

The delegation's will then travel to Israel, the PA, Lebanon, Syria and other destinations "according to the developments."

The team will be led by Vijay Nambiar, Annan's special political adviser. It also includes U.N. Mideast envoy Alvaro de Soto and Terje Roed-Larsen, Anna's special envoy who has overseen implementation of a U.N. resolution demanding Syria end its sway over Lebanon.

'Zionist regime has no choice'

"Mr. Nambiar will emphasize to all parties the secretary-general's call to exercise restraint and to do whatever possible to help contain the conflict," Annan's spokesman Stephane Dujarric said in a statement released in Rome, where Annan is visiting.

Meanwhile, international condemnations of Israel's military actions in Lebanon continue.

The European Union on Thursday criticized Israel for using "disproportionate" force in its attacks on Lebanon following the cross-border raid by Hezbollah guerillas who captured two Israeli soldiers.

The EU also called Israel's naval blockade cutting off supply routes to Lebanon unjustified.

Separately, EU foreign policy chief Javier Solana said he was planning a peace mission to the Middle East.

"The European Union is greatly concerned about the disproportionate use of force by Israel in Lebanon in response to attacks by Hezbollah on Israel," according to a statement issued by Finland, which holds the EU's rotating presidency. "The presidency deplores the loss of civilian lives and the destruction of civilian infrastructure. The imposition of an air and sea blockade on Lebanon cannot be justified."

Italy criticized Israeli retaliatory attacks on Lebanon as disproportionate and dangerous, saying the view was likely to be shared by the entire international community.

"We have the impression that this is a disproportionate and dangerous reaction in view of the consequences it could have," Ansa news agency quoted Foreign Minister Massimo D'Alema as saying.

"And that seems to me - slight differences apart - the way in which the entire international community sees the situation," he added.

Iranian Foreign Minister Manuchehr Mottaki said, "The brutal attack by the Zionist regime will not help its cause. They are repeating their mistakes and believe they can impose their terms on the region.

"The Zionist regime has no choice but to free Palestinian and Lebanese prisoners in exchange for the IDF soldiers' release.

The Iranian foreign minister told reporters in Tehran following a meeting with the South African foreign minister that President Mahmoud Ahmeadinejad will personally call leaders of Middle East countries later in the day.