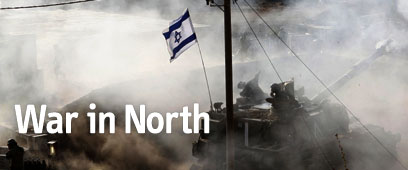 IDF operating in Lebanon
Photo: Reuters

Kidnapped soldier Eldad Regev
Reproduction photo: Hagai Aharon

Kidnapped soldier Ehud Goldwasser
Israel fears transfer of kidnapped troops to Iran
Senior Foreign Ministry official says government has 'specific information' that Hizbullah plans to transfer abducted IDF soldiers to Iran. 'Consequently, Israel views Hamas, Hizbullah, Syria and Iran as primary elements in the axis of terror and hate threatening not only Israel but the entire world,' he says. Tehran denies involvement in plan
Senior Israeli Foreign Ministry official Gideon Meir said the government had "specific information" that Hizbullah planned to transfer the kidnapped IDF soldiers to Iran - an allegation swiftly denied by Tehran.
"Consequently, Israel views Hamas, Hizbullah, Syria and Iran as primary elements in the axis of terror and hate threatening not only Israel but the entire world," Meir said.
Captured By Hizbullah
(VIDEO) IDF reveals names of two soldiers abducted during Wednesday's Hizbullah attack in north. Relative of Eldad Regev: He is simply amazing. We are still finding it difficult to grasp what is happening and are hoping for the best
The official maintained Hizbullah would not be able to operate in Lebanon "without clear Syrian sponsorship" and branded Iran the "main benefactor" of the fundamentalist Shiite movement.
Last month, Israeli warplanes flew over one of the palaces of Syrian President Bashar Assad in a stark warning to the Damascus regime. The Israeli government has also threatened to kill Hamas leaders based in Syria.
Meir said Israel had been in "intensive" contact with foreign governments to ensure Iran and Syria "understand that the price that they'll pay internationally for their support of terrorism will be unbearably high."
'Israel locked in a crisis'
Hamas and Hizbullah, with their Islamist ideology, were locked in an "an international effort to wage holy war against the infidel," he added.
Meir also pointed the finger at Khaled Mashaal, the politburo chief of Hamas who is based in Damascus, accusing him of commanding militants inside the Palestinian territories.
"Iran has also made considerable inroads of influence into Palestinian terrorist organizations," Meir said.
Iran's foreign ministry spokesman Hamid Reza Asefi "categorically denied" any involvement in an alleged plan to transfer into Iran the two Israeli soldiers.
"Israel is locked in a crisis it has itself created," Asefi told AFP.