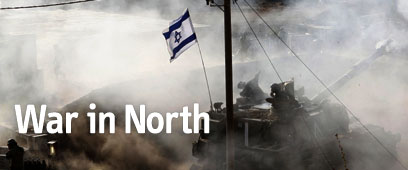 Destruction in Safed
Photo: Yoron Brenner
One man was killed and 18 others were injured Thursday evening during a Katyusha barrage on Safed.

Three people sustained moderate to serious wounds, and the rest suffered light injuries. The man was critically injured in the attack and later died of his wounds.

Facing New Reality

(VIDEO) 30 people injured after Katyusha barrage falls on northern city of Safed – one injured said to be in serious condition; Majdel Krum hit by 4 rockets – 20 people injured – one moderately

One of the rockets directly struck a Maccabi health services building, and according to reports, a house on Keren Hayesod Street was also directly hit; a boy may be trapped in the rubble, the report said.

Eyewitnesses also reported of casualties in the city's Arazim neighborhood.

At around 2.30 p.m., five neighborhoods in Safed were attacked simultaneously; the wounded were all evacuated to Ziv Hospital in the city. The Jewish Agency reported of rockets that landed in the Cna'an absorption in the city, lightly injuring a new Ethiopian immigrant.

Katsav tours city during attack

Also on Thursday, a missile fired form Lebanon landed in Haifa's Stella Maris neighborhood; firefighters were dispatched the scene, and no casualties have been reported as of yet.

The Hizbullah issued a statement soon after the attack denying responsibility for the fire.

Haifa residents were instructed to remain in their homes.

Earlier six Katyusha rockets landed in Nahariya; one directly hit a building on Herzl Street; five tenants were lightly injured and two others suffered from anxiety.

The fire that broke out in the building as a result of the attack was quickly extinguished by firefighters. The attack on Nahariya took place as President Moshe Katsav was touring the city.