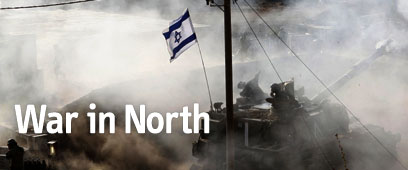 Israeli air strikes in Lebanon
Photo: AP
Israeli aircraft on Thursday fired missiles at petrol tanks near the Beirut International Airport. The army said the airport is used by Hizbullah to transfer arms.

The air force on Wednesday night targeted runways at the airport which was closed.

Earlier the Navy hit a Katyusha cell.



Traffic jams in Beirut as residents flee capital (Photo: Reuters)

Lebanese officials said Israeli aircraft dispersed thousands of leaflets above the Shiite-dominated areas of southern Beirut warning citizens to stay clear of Hizbullah offices and operatives.

"For your own safety and because of our desire not to harm any civilians who are not involved (with Hizbullah), you should refrain from staying in areas where Hizbullah is present and operating," said the Arabic-language leaflets, signed "The State of Israel".

Eyewitnesses said hundreds of residents were seen leaving the capital.

Meanwhile, Hizbullah has come under increased pressure from Lebanese political parties, although a statement issued by the Lebanese government failed to condemn the group.

Lebanese Communications Minister Ghazi Al-Aridi told local media outlets Thursday afternoon that the Lebanese government has asked for a ceasefire to immediately end the IDF attacks in its territory.

Al-Aridi said his country is interested in an immediate and total ceasefire and will make use of all available channels towards this end. Meanwhile, the Lebanese government has demanded that the UN convene an emergency session to discuss the Israeli offensive.