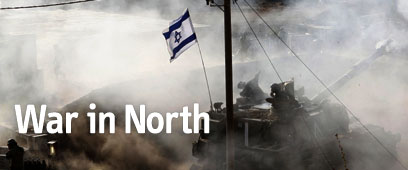 Prime Minister Ehud Olmert
Photo: Gil Yochanan

United Nations Secretary General Kofi Annan
Photo: Reuters
Israel will not halt its offensive in Lebanon until Hizbullah is disarmed, Israeli Prime Minister Ehud Olmert said Friday.
Olmert made the comments during a telephone call with U.N. Secretary-General Kofi Annan, Israeli government officials said Friday. Olmert agreed to allow a U.N. team come to the area to try to mediate a cease-fire, an official close to Olmert said.
The official spoke on condition of anonymity because he is not authorized to speak to the media.
Israel launched a major offensive in southern Lebanon Wednesday after Hizbullah killed eight Israeli soldiers and captured two more.
Since then, at least 61 Lebanese have been killed in Israel's retaliatory offensive, and Hizbullah terrorists have rained scores of rockets on northern Israel, killing two civilians.
Olmert said he would only cooperate with the U.N. team if its mandate would be to free the captured Israeli soldiers and force Lebanon to comply with a U.N. resolution that calls on it to deploy its forces along its border with Israel, moving Hizbullah guerrillas out of the area, the official said.