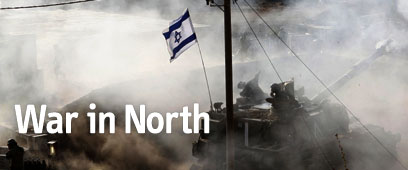 Israel's Ambassador to the UN Dan Gillerman
Photo: AP

US Ambassador to the UN John Bolton
Photo: Reuters
(WASHINGTON) The United Nations Security Council convened for an emergency session to discuss the latest escalation in violence between Israel and Hizbullah in Lebanon.

Lebanon's Ambassador to the UN, who called for the meeting, demanded Council members condemn Israel's air strike against targets in his country.

Danny Gillerman, Israel's UN ambassador, told his Lebanese counterpart: "Deep inside your heart you know that if you could, you would be sitting here next me. If Israel wins the war, Lebanon will benefit."

Gillerman quoted a Lebanese minister who lashed out at Hizbullah and Iran and Syria who support it. He accused the Lebanese government of failing to impose its sovereignty on all its territory and disarming the Hizbullah as demanded by Council Resolution 1559.

Russia's UN Ambassador Vitaly Churkin called on Israel to stop its operation in Lebanon. He also condemned Hizbullah for kidnapping two Israeli soldiers and killing a handful others, triggering an Israeli military operation against Lebanon.

US Ambassador to the UN John Bolton demanded Lebanon implements resolution 1559 which stipulates that Hizbullah should be disarmed.

He called on Syria and Iran to stop supporting terror organizations, urging Damascus to arrest Hamas's politburo Khaled Mashaal.

Israel expects the United States to use its veto power to block any resolution against Israel.