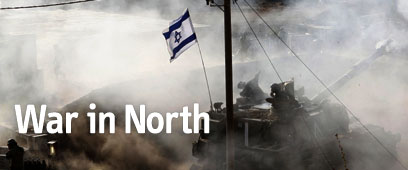 IDF strikes in Lebanon
Photo: Reuters
A senior IDF official revealed Saturday that Hizbullah has been hiding a large quantity of long-range rockets in specially-designed rooms built in houses in Southern Lebanon villages, operating under the assumption that the Israeli army will have difficulty in locating them and that it would prefer not to harm villages.

According to the official, the rockets that have been concealed are capable of reaching a range of 40-70 kilometers (roughly 25-43 miles). "We took the gloves off in this confrontation, we targeted these places and will hit every convoy transporting arms, even if there are Iranian elements within it," he stated.

However, as the IDF intelligence unit believes that there are those in Lebanon capable of bringing about a significant turnabout in the country by curbing Hizbullah, it was decided that the pressure exerted on the Lebanese government will be limited, so as not to jeopardize this possibility.

Surprises for Nasrallah

Three days after the onset of the large-scale operation in Lebanon, army sources estimate that Hizbullah's head Hassan Nasrallah had expected a much more restrained Israeli response to the kidnapping of two soldiers on its border. "He didn't expect us to reach all those villages and substantially damage the long-range rocket infrastructure," the senior officer said.

According to the officer, civilians who were storing the rockets in their houses have been hit in some of the strikes. "We have no intention of hurting civilians, but those who live by the sword are bound to get hurt," he stressed. The strike on Beirut, he stated, was also a surprise for Nasrallah. "It's true that he has surprises for us as well. Some we know of, some we don't," he said.

According to an assessment formulated by the IDF intelligence unit, there are positive forces in Lebanon capable of bringing about a much desired transformation in the country by pushing Hizbullah aside and undermining its strength. The recent operation will therefore refrain from pressuring the Lebanese government in order not to weaken these forces.

Significant change needed

In the last three months no official element in Lebanon has confronted Hizbullah and the regime has regularly complied with the organization's demands. However, the IDF believes that some in the neighboring state are strong enough to stand up to Hizbullah, and that they must be encouraged to act.

"We have no problem with having a Lebanese APC patrolling the border once this happens," a senior officer said.

However, an army official stressed that the IDF will not be content with having the current round of fighting on the northern border end with vague achievements. Pushing Hizbullah away from Southern Lebanon and the deployment of a Lebanese division in the area will not satisfy Israel, which aims for a significant transformation in the region.

"We are seeking for law enforcement and order. Such deployment without arranged understandings is out of the question," the officer said.