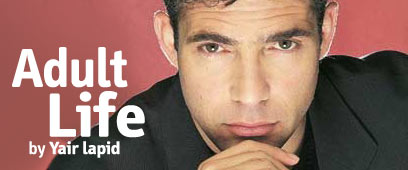 1

Just because two countries aren't interested in war does not mean there won't be one.

I didn't make that up of course. It's one of the elementary principles of international relations: One leader says something, the second responds, the first says to himself: Okay, nothing is happening, but let's tell the army to be on the lookout.

The second peers through binoculars, sees military movements so he calls his generals together and tells them: Prepare for the worst. When the generals do indeed begin to prepare for the worst, you can bet it will happen. It's called 'escalation', or "Mommy, he started it."

One of the most frequently heard phrases in Jerusalem these days is: What do we need this for? What's so bad with the way things are at the present? The border is quiet; the Golan Heights are blooming. No one's existence is threatened. It won't be long before they start buying apples from us again so there is no reason to make peace and pay a high price.

Actually there is one reason – if there is no peace there will be a war sooner or later, for these reasons or others, if we want it or not. The conditions on both sides of the border are too volatile. Too many weapons, too many forces, too many old conflicts and new terror groups, too many interests. Whoever doesn't make peace when he has the chance, has to take into account that he will get war.

2

In another five years, when the George W Bush autobiography is published by Harper Collins, the following sentence will appear on page 352: "Then the Israelis accepted my position." That is what our capitulation to the US policy will be worth in another five years. We will still be here, on the border, facing 1000 VX missiles carrying nerve gas in their heads. In return, we'll be relegated to a footnote.

Even the most prominent patriots can't deny the extent to which we are dependent on the Americans. If we seriously annoy them, it'll take two years for the best air force in the world to become a lot of rusted junk. But there is a difference between totally succumbing to their superiority and completely slacking off. There is always something to do in America. You can mobilize Congress, you can launch a campaign or at least start a debate. If there is one idea that they have etched into the world culture its "freedom for all."

3

There are no negotiations with the Syrians. There are only negotiations among ourselves. 18,000 Israelis live in the Golan Heights opposite 17,000 Druze and a few thousand Alawites; all sitting on 1,250 kilometers, stretching between the Chateau Golan vineyards and the bumpy cable car ride over the bald Mt. Hermon.

The Jewish residents there have a strong and faithful lobby precisely because they never claimed they settled there to wait for the Messiah. It was all about the old fashioned Zionism. Good people called by their country so they answered. This, in contrast to Gush Katif, visited by most Israelis only during reserve military service. But we've all been to the Golan and we all felt the same: No way we can give up this magnificent place which looks like a Degas landscape.

Except that it may have to happen. Negotiations with the Syrians are only a dance. Everyone knows what stands in the balance. Each and every one of us has internalized it. Its time to figure out what we think. Unlike Begin, who annexed the Golan under the cover of darkness opposite an exhausted Knesset; not even like Sharon who ignored the outcome of his own party's referendum for which he had asked.

What's needed is a genuine, serious debate posing the issue of the land versus the blood, the chance versus the risk, the clear advantages vs. the known disadvantages. In the end, there will be a referendum. We will decide what we will decide but it's time to make a decision.

4

Four times we almost signed a treaty with the Syrians and four times we withdrew and put our energies into the Palestinian track. Logic dictated that they were the ones in our midst, the main problem and we needed to see what was happening with them. Except that in the Middle East, logic works differently.

The day after we sign a treaty with the Syrians, the Palestinians will wake up, raise their collective head and realize they are alone. Instead of feeling the support of the Arab world behind them, they will become a nuisance.

Opposite them will be a country that has peace treaties with all the nations surrounding it. (No one doubts that Lebanon won't be far behind Syria.) That country will be prosperous, self confident with citizens – like in fairy tales – who take Shabbat drives to check on who has the best humus in Damascus. The Palestinians won't be able to tolerate it. They haven't got the wherewithal.

5

So is he an idiot or a genius? Each time we make up an Assad who is convenient for ourselves. One minute he is an idiot, an eye doctor who is scared of his wife and never wanted to be president. The next minute, he's a member of the 'axis of evil', a devious statesman who is urging resumption of negotiations as part of a sophisticated, diabolical overall geo-political plan to destroy us.

Neither theory is right. There is always something ridiculous about the way in which we inflate our enemies – a pretty miserable bunch at that – so that we have something to fear. Syria has an unemployment rate of 20 percent. Its GNP is one-fifth of Israel's. 40 percent of its residents are still smalltime farmers and its trade deficit is huge.

Syria only continues to exist because of its oil reserves in the northeastern sector of the country which are running out (according to the most optimistic forecast they have between five and eight years before they dry up). Assad may be an idiot but as an eye doctor he surely must see what is going on.

The question of who is Assad leads to the question who is Olmert. Even his most ardent detractors admit the prime minister is savvy, quick and surprisingly experienced. Even his most devoted supporters know he sometimes acts like a politician instead of a statesman. Is he looking for realistic ways easily marketable to avoid speaking to the Syrians? He will find them. But that is not what we need.

No one one's to go down in the annals of history (and certainly not in Bush's biography) as someone who contributed to the 0.75 percent rise in exports.

"Give them a flag," said Herzl, "and they will rally 'round it."

Of all the prime minister's responsibilities that is the most important one. We never really needed a flag. It may never be simpler to give it to us.