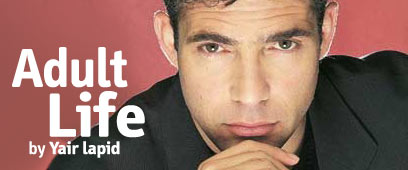 Happy birthday. Yosef Lapid
Photo: Eli Algarat
My dad (Yosef Lapid) turned 75 year old this week. We threw him a small party in our house inviting family and a few friends. He sat in the armchair and opened his gifts with such glee that someone had the temerity to suggest that we lift him up in the chair.

The idea was vetoed for 250 technical reasons and a few more after Claudio brought out the deserts. I asked my friend magician Amir Lustig, who is not only Uri Geller's heir apparent but much funnier, to perform a few tricks. When money suddenly appeared in a tangerine my dad clapped hands with such enthusiasm that I thought he would fall out of the chair.

I usually refrain from writing about my dad since everyone knows him and has at least two opinions. But a 75th birthday is an excellent opportunity to break my own rules.

When we raised a toast in his honor he said, "You know, I never thought I'd live this long. If someone would have told me when I was 13 – a kid in the ghetto surrounded by a world that wanted to exterminate me – that one day I would celebrate my 75th birthday in the State of Israel, surrounded by my family and grandchildren; that even the prime minister would stop by to offer me congratulations, well, I would have thought him insane."

Ah, yes, the prime minister was there and so was my son Lior who sat on the floor trying to understand why someone would want to kill his grandfather. I looked at the two of them and thought of the greatest thing my dad ever taught me:

Devour Life.

Experience it as if there is no tomorrow, because that is the only way tomorrow will come. Don't be afraid of anything because what is the worst thing that could happen. Don't ask yourself if the project 'is beyond your capabilities' because it is better to try and fail than to never have made the effort.

Live by your own rules

Living by the rules of his frightened generation, my dad would have died twice at least. He never engaged in sports. His most stable relationship, beside my mother, is with spicy Hungarian sausage. He hates people who tell him he needs to avoid stress; he lives for stress especially if he is the cause of it. If there is one sentence I have heard 10,000 times in my lifetime it's:

Don't get ulcers, cause them

And now he's 75 and the machine still works. The brain is sharp, the body taunts the laws of nature. He still beats me in chess. By all the rules, he should be sitting in the local community center putting puzzles together with Mrs. Finklestein but he is not ready to vegetate.

Should you want to know why this active man – his own radio show, tv program, newspaper column and chairman of Yad Vashem Holocaust Institute – was supposed to retire ten years ago, it is because in 1908 Sir William Beveridge submitted a report to the British government recommending that people retire at the age of 65. It seemed economical to offer pensions to the dead.

It's just that today people live until 80, 90 and even 100 years of age. They are an unlimited databank of information and common sense, of initiative and imagination, abilities that we cannot even come close to matching. And it isn't just their lives that we are wasting, it is ours as well because 30 years from now more than a quarter of Israel's population will be retired and the economy will not be able to handle that.

We will not be able to pay the pensions to everyone so it's preferable to find ways to employ these people.

If someone works for 30 years in a place he hates only to get a pension then give him the chance to leave. (On his way out, ask him if it wasn't a shame to waste his entire life in that way.) Those who can and want to must be allowed to continue to work.

I look at my dad again. His pale hand is stroking Lior's dark hair. The fact that he continues to work, remains achieve and uses his facilities enables him to remain the pater-familia, father of the family. He knows that our respect for him is genuine ad heartfelt. He knows that our love for him is not because of what he was but for what he continues to be.