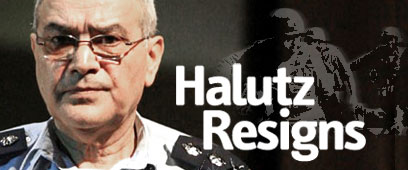 Knesset (Illustration)
Dudi Vaaknin
The political system is in turmoil following the resignation Tuesday of IDF Chief of Staff Dan Halutz.

Farewell

Resigning IDF chief of staff meets with General Staff at Kirya Base in Tel Aviv Wednesday morning, bids generals farewell. Halutz says he thoroughly considered his steps, decided to resign once war inquiries had been completed

As early as Wednesday morning, many Knesset members have already called on the defense minister and the prime minister to follow Halutz's example and go home as well.

MK Yisrael Katz (Likud) commented on the resignation, saying that "the chief of staff's resignation officially confirms the failure of the Lebanon war and compels the prime minister and the defense minister to stop holding on to their positions and resign from their posts."

"A temporary emergency government should be formed that would include a representative from each Zionist party for six months until the elections," Kats added.

MK Ophir Pines-Paz (Labor) said, "Halutz's resignation was a necessary, unavoidable step."

"One can hope that his resignation in the first step towards rehabilitation of the crisis of confidence the military and defense establishment have gotten into and the beginning of the reestablishment of the IDF's deterrence," he added.

MK Zahava Gal-On (Meretz) stated, "The prime minister and defense minister have no moral right to appoint the next chief of staff," and that "the responsibility for the failure of the Lebanon war cannot stop at the military echelon but must include the political echelon as well for making irresponsible decisions before the war."

MK Arieh Eldad (National Union-National Religious Party) said, "It is a shame that Halutz wasted four precious months for the State of Israel that were needed for the rehabilitation of the IDF."

"Now Peretz and Olmert must go as well, since the whole country, and not just IDF is in need of rehabilitation and cleansing," he added.

MK Gilad Erdan (Likud) said that the next IDF chief of staff should not be appointed by the prime minister and defense minister, but by a committee of experts that should be formed by the government.

"Olmert and Peretz's understanding in State security is near nothing and their considerations in selecting the next chief of staff could now be influenced by foreign political considerations," said Erdan.