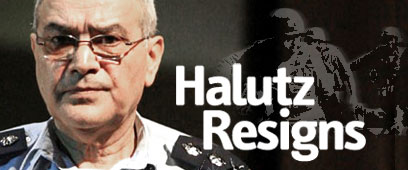 Gush Katif evacuees expressed Wednesday their satisfaction with IDF Chief of Staff Dan Halutz's resignation.

"Dan Halutz prepared the army and the ground well for the implementation of the disengagement plan, but forgot and neglected to prepare the army for war. He will be remembered as the army chief of the displacement and expulsion," Avi Farhan, who was evacuated from the Elei Sinai settlement last summer, said.

"The chief of staff should have resigned a long time ago, and not take upon himself the eviction that was called the disengagement – a move that hurt the state and its values, and that turned Gaza into Hamas-land," he added.

Head of the Gush Katif evacuees council in the community of Nitzanim, Lior Kalfa, said, "On the personal level, of course we are not happy that this is what the country looks like, and that this is how we appear following the Lebanon war. But there is a very clear process here indicating that the uprooting caused the country to fall into an abyss, in the bottom of which lies – among other things – Halutz's resignation."

"One should think before he acts, and the army chief finds himself today in a completely different place, after having led the disengagement process," Kalfa added.

'We're not gloating'

According to Kalfa, Halutz's announcement stirred turmoil among the evacuees. "This certainly occupies us, the people who have been sitting here for a year and-a-half, after having lost our homes, jobless, farmers with no land."

"However, I believe this resignation symbolizes the fact that anyone who was involved in the disengagement will be forced to resign. We're not gloating, this is how we feel," he stated.

Kalfa stated that "Halutz's resignation is a warning sign to any leader who touches the land of Israel."

Former spokesman for the Gaza Beach Regional Council, Eran Shternberg, said, "Halutz, who calls in his letter (of resignation) to leave the IDF outside the political struggles, must have forgotten he carried out the disengagement plan. The defeat in Lebanon was only natural in this situation, and it seems that the only harmless action he took was selling his shares at the beginning of the war. We have nothing left to say but 'good riddance'."