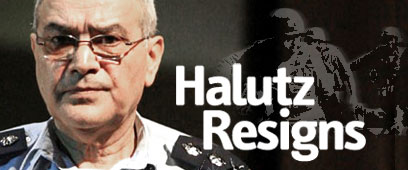 Kaplinsky. Leading candidate
Photo: Gil Yochanan

Ashkenazy. Second choice
Photo: Shalom Bar Tal

Ganz. Not ripe
Photo: Yaron Brener
Wednesday afternoon, Defense Minister Amir Peretz has commenced consultations towards deciding who will be the Israel Defense Force's 19th chief of staff.

Candidates

After chief of staff announces his resignation, military officials estimate that Dan Halutz's replacement will be one of following two: Maj. Gen. Moshe Kaplinsky or Maj. Gen. (res.) Gaby Ashkenazy

Peretz is scheduled to hold private meetings with Deputy Chief of Staff Major-General Moshe Kaplinsky and Ground Forces Commander Maj. Gen. Benny Ganz.

He is also expected to meet with Director-General of the Defense Ministry, Maj. Gen. (res.) Gaby Ashkenazy and other personalities in order to decide which candidate would be most suitable for the position.

Maj. Gen. (res.) Ashkenazy got much support from IDF officials who said that "although his name was tied with the October 2000 kidnappings, the is an excellent military man who held a great number of special staff positions and is capable of leading the IDF forward after the difficult crisis it is now in."



Olmert-Peretz-Halutz triangle has fallen apart (Photo: AP)

Ashkenazy is currently favored over Kaplinsky by IDF senior officers mainly because the Winograd Committee has not yet completed its investigation.

The officers fear that if Kaplinsky were to be appointed chief of staff, and later be criticized by the committee, this may harm the military, which is already in a sensitive enough position.

Benny Ganz's chances of making chief of staff are weak, since he is a relatively young officer who is not ripe for the job.

The idea of appointing a former military man, who had only been released from military service a few years ago does not seem practical, and in the end, the real race will probably be between Ashkenazy and Kaplinsky.

The leading candidates

Deputy Chief of Staff Maj. Gen. Moshe Kaplinsky is the natural candidate to inherit Halutz's post at the end of his term. In recent months, as Halutz's position weakened, his name was brought up for the prestigious position.

Kaplinsky, who started his role as deputy chief of staff in March 2005, is considered a highly valued officer both within the IDF and among the political echelons.

Kaplinsky enlisted to the army's Golani brigade in 1976 and took on many roles during his service.

In 2001, he was given rank of major general, and was appointed military secretary to the prime minister. In 2002, he was appointed Central Command chief, and dealt mainly with action against terrorism in the Territories.

Maj. Gen. (res.) Gaby Ashkenazy was appointed deputy chief of staff three and a half years ago, and finished his term last July, after which he moved to the Defense Ministry.

Ashkenazi lost out to Halutz in the race for chief of staff after then chief of staff Shaul Mofaz made the decisive call in the close race.

Fifty-two year-old Ashkenazy entered his post as Defense Ministry director-general in July 2006, two weeks after the war broke out.

He has been Defense Minister Amir Peretz's leading candidate for the post since he entered the ministry, and is considered an excellent workman.