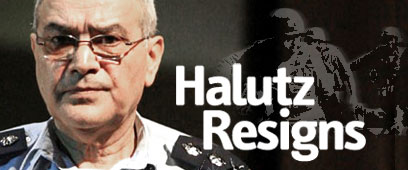 Noam Shalit speaks at rally
Photo: Doron Golan

Miki Leibovitch speaks at rally
Photo: Doron Golan
Three hundred students gathered Wednesday afternoon at a rally in Haifa University to mark six months since the soldiers were kidnapped. Noam Shalit, kidnapped soldier Gilad Shalit's father, and friends of the kidnapped soldiers were also present.

During his speech at the rally, Miki Leibovitch, head of the activist group working to bring back the kidnapped soldiers, accused outgoing IDF Chief of Staff Dan Halutz of failing to bring back all his troops at the end of their operation.



Rally at Haifa University (Photo: Doron Golan)

The majority of students present at the rally were reservist soldiers, some of which were even called to serve in the second Lebanon war. Leibovitch, one of kidnapped soldier Ehud Goldwasser's good friends, took it upon himself to head the efforts of the activist group working to bring back the soldiers since the kidnapping.

Referring to Halutz's resignation, Leibovitch said, "We didn't ask for anyone's head. We know it's not going to bring our friends home."

He continued, "But the day a senior IDF commander ends his terms and proudly states that he has exhausted his responsibility as a commander, we're here to remind him that he failed in the first mission every IDF commander has, to bring soldiers home at the end of an operation. And he's not alone. The military and the government failed in that mission."

'Failures were written on the wall'

Noam Shalit described the difficult times the family members of the kidnapped soldiers have endured since the kidnappings, and repeated his claim that the kidnappings were made possible due to failures by the army and the sources responsible for it.

"These failures were written on the wall in big letters," Shalit said. He also commented on Halutz's resignation and said that it was not the last word in the investigation of the war and its failures.

Also during the rally, Haifa University Administration Vice President Baruch Marzan urged international institutions to put pressure on their colleagues in Lebanon to advance the process of receiving a sign of life from the kidnapped soldiers.

Chairman of the Student's Association Shay Pnini called on Prime Minister Ehud Olmert to take responsibility and do all that is needed in order to bring the soldiers home.

"Olmert, do whatever is necessary to bring the soldiers home, just as they did whatever was necessary to protect Israel's citizens," he said.