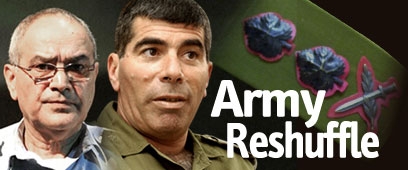 Peretz's position improving?
Photo: Gil Yohanan
'Full faith' in Ashkenazi
Photo: Shalom Bar-Tal
For the first time in weeks a feeling of optimism prevailed among Defense Minister Amir Peretz's associates Monday, following the approval of Peretz's recommendation of Gabi Ashkenazi as the next IDF chief.

Peretz's supporters continued to insist that he has no intention of quitting the Defense Ministry. Further, the positive dynamic between Peretz and Ashkenazi will improve the defense minister's position, Peretz's associates told Ynet.
Army Reshuffle - full coverage

"We hope that a better period is starting now. Feelings are positive. Amir prepared a long-term plan, and it is being implemented. The new IDF chief has the defense minister's full faith," they said.

Peretz's supporters shrugged off criticism of the appointment process of the chief of staff, which was steeped in tensions between Peretz and Prime Minister Ehud Olmert.

"We wanted to show that the games were over," they declared. "The appointment of a chief of staff is not anyone's personal issue, but a national matter."

Lobbing criticism against the prime minister, they added, "The real problem that is beginning to arise in the Labor party is whether to stay in the government. Olmert seems done for and so does Kadima. All the surveys portend disaster (for Kadima). Kadima members feign decency, but in the Labor party people are starting to talk about

their corruption."

Some Labor figures assess that if the corruption affairs that Kadima is embroiled in worsen, the party may not endure and its members will scatter to Likud and Labor.

"A government whose prime minister is suspect and under investigation can't survive for long. It is not at all clear where this government is headed, and if the scandals get more tangled, there will be an intifada inside the party," sources postulated.