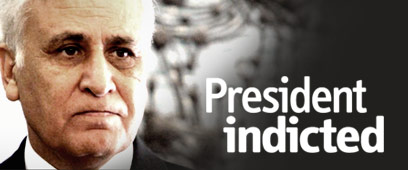 President Moshe Katsav - charged with rape
Photo: Amir Cohen

Complainant A and Attorney Kineret Barashi
Photo: Gil Yohanan

Zion Amir, Katsav's lead defense attorney
Photo: Haim Zach
President Moshe Katsav will be charged with a series of sexual offenses, including rape, and breach of trust, Attorney General Menachem Mazuz decided Tuesday.
The indictment has yet to be filed, and can be dismissed if Mazuz changes his opinion after hearing Katsav's version of events at a special hearing.
Katsav pulling up to his home in Jerusalem (Photo: AP)
Professor David Liba'i, Katsav's lawyer, said Tuesday that he believed Mazuz would overturn the decision, saying the president was a victim of trumped-up charges, however he added that today could be the president's last day in office.
Katsav himself is due to convene a special press conference Wednedsay. Liba'i would not confirm that the president would use the conference to announce his resignation. In November, after a petition for his resignation was filed with the High Court, Katsav announced he would resign if indicted.
In such a case, Knesset Speaker Dalia Itzik would temporarily serve as president. Nonetheless, it is possible that Katsav will not resign, but merely appeal to the Knesset for a temporary leave of absence.
Representatives from the state prosecutor's office and Justice Ministry believe that Katsav should resign immediately, without asking the Knesset for temporary leave, since such an act might delay the indictment process.
Even Zion Amir, another Katsav defense attorney, told Ynet that "the president will honor his word to the High Court of Justice; at this point he must suspend himself."
Mazuz's official stance is that any indictment of the president is conditional on a hearing with Katsav and, as such, he should take a temporary leave of absence.
Should Katsav be convicted of rape he could face a maximum 16-year jail sentence. Under Israeli penal law the court could rule to reduce the sentence to four years under "special circumstances."
The charge
Since July, a number of complainants have accused the president of sexual harassment, coercion and rape. In addition, an investigation against the president revealed suspicions of fraud, breach of trust, harassing a witness and obstruction of justice.
The president had also been accused of pardoning prisoners and illegal wiretapping. However, these allegations were dropped due to lack of evidence.
Attorney Kineret Barashi, who represents A, the woman at the center of the rape charge, said: "The facts of the indictment speak for themselves."
But Liba'i said that A's accusations were baseless, pointing out that she reported her case to the police years after she had stopped working for Katsav.
He further argued that had A been harassed by Katsav, she would not have asked to return to his office a year after having resigned.
Katsav, Tuesday evening (Photo: Liran Meimon)
The beginning of the affair
The affair began in July when Katsav complained to the attorney general that he was being blackmailed by A who, he said, was falsely accusing him of sexual wrongdoing.
Mazuz ordered an investigation, which was closely monitored by the attorney general and State Prosecutor Eran Shendar. The investigatory team, headed by top police officer Yoav Segalovitch, submitted its findings in October..
The indictment had been delayed for several weeks as a number of state prosecutors believed that there was not enough evidence to charge Katsav with rape and that the prosecution would have to settle for lesser charges. Others argued that there was sufficient evidence, and this was the position ultimately accepted by Mazuz.
A senior state prosecutor said that he believed that the existing evidence, in the form of letters and tapes, would compensate for the lack of a "smoking gun" and prove solid enough to substantiate a rape charge.
In cases like this, said the prosecutor, the string of continuous testimonies and complainants will suffice. The prosecutor added that there was a more solid base for the prosecution than in the case against former justice minister Haim Ramon, where it was a matter of one person's version of events against another's.
Attorney Zion Amir, a leading member of Katsav's defense team, said before news of the indictment broke: "We believe that this case is full of holes."