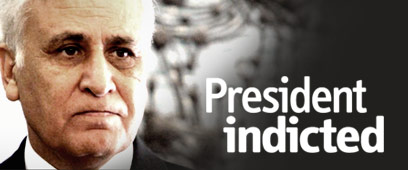 President Katsav
Photo: Ahiya Raved

Complainant A
Photo: Gil Yohanan
Moshe Katsav was elected president in a surprise upset over Shimon Peres in the summer of 2000. Some six years later, he surprised the nation again, this time with a sex scandal.

Ironically, the president brought the matter to the public's attention. He complained to Attorney General Menachem Mazuz that he was being blackmailed by A who, he said, was falsely accusing him of sexual wrongdoing.

Mazuz opened an investigation to determine the veracity of A's complaints. As the investigation progressed, more women came forward, claiming that Katsav had harassed them at various times throughout his public career.

Additionally, the investigation led to suspicions against the president of fraud, breach of trust, harassing a witness and obstruction of justice.

Although Katsav continued to refute all of the complaints, the tide of public opinion against the president grew.

Many people, including Knesset Member Shelly Yacimovich, called on Katsav to resign, or at least suspend himself from public appearances. The president suspended himself temporarily for the induction ceremony of Supreme Court President Dorit Beinisch in September.

But this temporary suspension only increased tensions. In October, several MKs announced they would boycott the opening ceremony of the Knesset's winter session, if Katsav were to attend.

A day before the opening ceremony, police investigators and state prosecutors issued a joint statement alleging that there was enough evidence to support numerous charges against Katsav, including rape.

Nonetheless, some prosecutors believed that there was not enough evidence to indict the president on a charge as severe as rape. It was this internal dissent that delayed Mazuz's final decision.

The decision finally arrived Tuesday evening, when Mazuz announced his intention to indict Katsav on several charges of sexual misconduct, including rape.