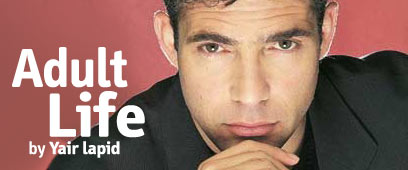 Assaf Tzur (Blondi)
Photo: Channel 2
Blondi was killed four years ago. The high school student got on the number 37 bus in Haifa at 2 p.m. heading home. The explosion happened after 12 minutes and 32 seconds, after the bus had stopped at two more stations on its route, at the entrance to the Carmeliya neighborhood.

He was 17 years old and his gravestone is shaped like a surfboard because that was what he loved – waves on the sea and blue skies overhead. His gravesite is surely the only one in the world in which a surfboard shaped stone is covered in quotations from Psalms and Blondi's real name – Assaf Tzur.

Blondi's dad, Yossi Tzur, once wrote a letter to my wife. He told her that Blondi was the second child in the family. I read the letter at the Remembrance Day Ceremony in Tel Aviv's Rabin Square last year.

Yossi wrote there: "There are many things that distinguish between child number one and child number two. The first child gets new clothes, the second gets the hand me downs. Everything is explained and patiently taught to the first child, the second needs to copy.

"We made a fancy party for the bar mitzvah of the first while the second one's bar mitzvah was a more modest affair at the synagogue. The first was inducted into the army and the entire household rallied around him; every concern was for his welfare. The second had to make do without the attention.

"There is no doubt that there are a lot of things the second child missed or gave up on until that horrible day when the second child was killed in a terrorist bus bombing on his way home from school. Now when I remember all the things we could have given him and did not, all the things we could have done better, all the things we could have said and did not, it won't happen again."

Afterwards Yossi wrote to me and I to him. Careful, cautious conversations between people who don't know how to talk about what hurts them so much.

Way to remember

He recently told me about a new idea: If Blondi was with us, he said, he would be marking his 21st birthday come April, and also be finishing his army service. He was planning to take his surfboard and travel to Australia and Hawaii in search of the perfect wave just like in the film 'Big Wednesday'.

So Yossi decided not to cancel the trip, not entirely. If Blondi can't see the world, let the world come to him. He sent a letter out into cyberspace with a small request. Every time I return from a trip - he wrote in the letter – I bring a small stone and put it on Blondi's grave. If you the reader will send me a stone from where you are, I will place it on Blondi's surfboard made of gray cement.

He didn't put much hope in what he did. "There is so much junk mail in the world," he wrote me, "that it's hard to cut through it all and get to the desired audience."

And one has to make the effort here as well: Find a rock, get a stamp, go to the post office (stones don't really fit into mailboxes), pay by weight and send it to someone you have never met.

Maybe it's not coincidence that he decided to share his reservations with me of all people. For months I have been trying to argue here – and in other places – that Israelis are much better people than we generally like to think. They care. They are prepared to do much for one another, but no one ever asks them. Cynicism has eaten away at us from inside over the years and we are sick of it. We are also sick of the claim that we are all rotten. We are not. Yossi finds this funny and a little annoying.

"You are a little naive to think and write that not everything is bad and not everything is rotten and the corruption has not infiltrated everything. At least that is my opinion, as a consumer of the Israeli media," he berates me. I keep quiet.

A week passes.

And another week.

And then the stones begin arriving.

And not just any stones, each one something special. An Israeli in Japan dug in the snow with his bare hands just to find a stone shiny and eroded by the years. Someone in Australia sent a small bottle and inside were gold particles from a mine. Someone else sent a rock sculpture found during excavations of a subway in Mexico City.

Another stone came from the pyramids. Oren sent a stone from Sydney, Hanna from Ontario, someone else from Moshav Amirim in the Galilee, Yoav from Ganot sent a stone he had brought home from Potosi, Bolivia the highest city in the world (which makes it the closest to God). Hagit sent a stone from Petra's red rock, Yael from Morocco, Noiya from India, Dalia from Italy and Tzvi from Las Vegas.

Strangers have also sent. They are reading about Blondi on Yossi's website www.blondi.co.il and are sending their small stones with a few lines to Yossi how sorry they are and that they are thinking of him and what a tragedy. They are doing it quietly without making a big deal out of it, not looking for anything in exchange.

At first the stones arrived one at a time, then by the dozens, now in the hundreds. Yossi is collecting them all and putting them on the surfboard. With their help, he keeps his son here with us, that we should not forget him. At the side of the letter in which he tells me all of this he quotes a line from author Gabriel Garcia Marquez "Death does not come with old age, death comes with forgetting."

And word to Mr. Ganani

Last week I wrote a humorous column about Ganani the bureaucrat who expropriated monies together with this nephew Ofer Ganani. Wouldn't you know it that of the seven million people in Israel, there is only one Ofer Ganani and he, as luck would have it, is as straight as an arrow. I want to say to everyone who knows him that he's not the guy in the article.