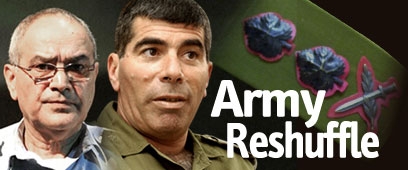 Halutz bid farewell
Photo: Haim Zach

Halutz on his last flight, two weeks ago
Photo: IDF Spokeserson's Office
Outgoing IDF Chief of Staff Dan Halutz on Tuesday bid farewell to the Knesset's Foreign Affairs and Defense Committee, one day before he takes off his uniform and hands over the reigns to Gabi Ashkenazi.

"The worst thing is when your no. 2, in the plane behind you, hurts you," Halutz told the Knesset members.

Aides to the outgoing army chief made it clear that he was not referring to Deputy Chief of Staff Major-General Moshe Kaplinsky, but to a the difficulties he encountered during his tenure, including the criticism directed at him by the public and the media and by senior retired officers.

"He meant to say that it is easier to fight the enemy than enemies from within," an aide added.

"If we were wearing uniform we would salute you," Committee Chairman Tzachi Hangebi told Halutz at the start of the meeting.

"We usually open discussions by noting our guests, but Halutz is not a guest," Knesset Member Hangebi said. "He has been a partner of the committee for many years, throughout his service in different roles.



Halutz and Hanegbi (Photo: Haim Zach)

"We had the opportunity to be with Danny in times which were not easy for the people of Israel and for the IDF, and were also not easy for him. We were also part of the better days and the worse days. We all love you and thank you for your years of service."

Hanegbi concluded by saying, "Don't stop your service to the State, continue as you find fit."

'Everything is done in favor of the people'

Halutz told the MKs, "I want to say thank you very much for the privilege given to me to head the army, to be at the committee and to enjoy both its good and bad. I have learned and I hope I have also left something behind. Although I am taking off my uniform, I am not giving up on my responsibility to contribute to the State."

"I don't know where yet, but I will find a way for it. I look back and today's army is much better than the old one, both because of the people and because of the means. A strong army is a guarantee for a strong and eternal state.

Army Reshuffle - Full coverage

"People in the military establishment want to know that they are appreciated, and if so, that's enough. I believe that everything is done in favor of the people of Israel," he concluded.

Halutz announced his resignation following the completion of the inquiries into the recent war in Lebanon.

"I chose to take responsibility," he said. "There are those who interpret responsibility as running away. I chose to deal with the investigation and a nation demanding a solution. That is responsibility."

Gabi Ashkenazi will take office on Wednesday and will serve as the Israel Defense Forces 19th chief of staff, after the government unanimously approved his appointment. Prime Minister Ehud Olmert congratulated him, saying that "I have no doubt that he will lead the army to achievements."