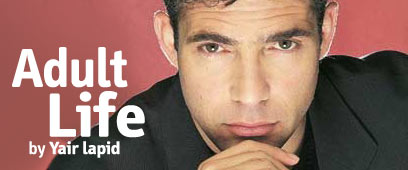 I can't believe it, really just can't believe you spent an entire year at the North Pole. What exactly were you looking for? Oh, not the North Pole? Greenland? What's the difference? What did you do for a year? The sex life of the Eskimos? Anthropological research? Cool, no God forbid, no I am not being cynical. I just want to understand who footed the bill for this. Nu, they have the money? What do you mean who do I mean, the Eskimos of course.

Tell me, when they finally locate it, doesn't it shrink in the frigid cold? Do they really live in igloos? I thought that was only in movies. What do they eat there? Seriously? Is seal meat kosher? Do your parents know you are back? What do you mean no telephone? What about television? Internet? Nothing? Are you kidding? For a whole year? No okay, you're right, a year is not such a long time.

So you didn't hear about the war? Yeah, there was a war, with Lebanon, that is, not exactly with Lebanon. Actually we fought in Lebanon so that the Lebanese army would deploy along our common border. What do you mean did we win or lose? What is this, soccer?

There's a commission, it will decide.

So you still didn't answer me, how many times a week do they do it? Really? I have to tell my wife that now it's scientific fact, Ashkenazi girls are more frigid than Eskimos.

What do you mean history repeats itself? Oh, right, it wasn't Sharon who started the war, it was Olmert. No he isn't finance minister anymore. He's prime minister. Why would I kid you? Sharon lost consciousness. Let's see when did you leave? Well, it was two or three days after.

Tell me, isn't it night in Greenland for half a year? So what do you do when your wife says let's wait until the kids go to sleep? Ha Ha. Did you have relations with an Eskimo woman? A full year and nothing? Doesn't your research include experimenting?

Because of the comission…

Who is defense minister? Amir Peretz. Why are you laughing? Appointing him was not my idea. In any case, there is talk that Ehud Barak is going to replace him. Yeah, the same Ehud Barak. Yeah, I also thought he was finished with politics, but he's back. What did he do? Nothing. He's abroad most of the time so everyone figured he was the better person for the job.

Where did you serve in the army? Really? Gimme five, bro. Our Golani, Sure, 51st Brigade but it was way before your time. Do the guys in your unit know you are an anthropologist? Three guesses who the Chief of Staff is now? Gabi Ashkenazi. I swear. Golani makes it to the top. I know he left the army but he was asked to return after Halutz resigned.

Because of the commission. No, not that commission, a different one. I don't know which one exactly. There are so many now. Maybe it was Zeiler, no that's the short judge from the police, because of him Karadi the police commissioner resigned. He's the judge that said Israel was like Sicily and you know what? The Sicilians were insulted. I swear, there was an interview with the mayor of Palermo.

Who is the national police commissioner? Don't have one yet. There is this guy, Ganot but there's a petition to the high court against him. They say you cannot appoint someone who has been acquitted of charges against him. No he was not indicted, he was acquitted. Maybe that is his problem.

Look at Lieberman, he was indicted on charged of assaulting a minor but he's a government minister. Maybe if he had been acquitted, then someone would have petitioned the high court against his appointment. What ministry? Strategic Threats. That is to say if there is a threat and it is strategic, it is his job to strategize against the threat. What threats? Esterina for example. You don't know who Esterina is? Okay, so listen as I have no idea where to begin.

When you left she was a bank clerk even though she claimed she was the deputy director and then she claimed she had a BA that she never had, and a masters that she never had and that she was handicapped and could not work and was entitled to compensation, so she was paid but she worked anyway. No, charges were not brought against her. She was appointed tourism minister. But all of this is not important since in the meantime she resigned.

Bibi? In the Likud. What do you mean Olmert too? No, Olmert is in Kadima, a new center party. What do you mean? A party that thinks exactly like Likud and Labor but doesn't agree with them. Whose idea was it? Ramon I think. No, he isn't. Also indicted. Kissed a girl. I know that was legal once but no longer.

We have something to learn from the Eskimos? I am sure you are right. They don't kiss? So what do they do? They rub noses? Maybe we'll send Katzav to the North Pole, rubbing he likes. Relax. He's still president, but suspended. What does that mean? It means you are but you really are not. Sexual harassment charges. Not one, four. Who will replace him? Probably Peres.

No he's not in Labor anymore. He left the party together with Dalia Itzhik. Where is she today? Give me a minute. If I am not mistaken she is now the interim president as well as the Knesset Speaker. No, she has not changed her hairdo, why should she? Like you said, a year is not such a long time.

Who's in charge? Good question

So who is in charge, you ask. Good question. Originally I thought the state comptroller until he appointed someone to investigate corruption and it turns out he is also being investigated. The justice minister needs to pursue this? He's new; it will take him some time to catch up with things.

No he did not replace Ramon; he replaced Livni who replaced Ramon. What's his name? Friedman. Some professor. He appointed a director general, a judge that Supreme Court President Dorit Beinish had dismissed because she could not work with him so now she has to work with him.

You doubt his suitability for the job? Well, who is suitable here? Attias, the Minister of Communications doesn't own a television set. Mofaz the Transport Minister hasn't been behind the wheel in 35 years. Ben Izri the Health Minister smokes like a chimney, Herzog the Social Welfare Minister grew up in the President's Residence. (His father was Chaim Herzog.) The poorest person he knows is Bar Rafaeli.

Here we are sir, what's the address? What do you mean turn the car around? Back to the airport? Did you forget something? You want to go back to the North Pole? Why? Was it something I said?