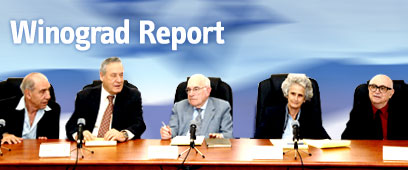 Prime Minister Ehud Olmert and Defense Minister Amir Peretz
Photo: AP

Justice Eliyahu Winograd
Photo: Tomeriko

Preparation for Press conference
Photo: Oren Rice
Prime Minister Ehud Olmert, Defense Minister Amir Peretz, and former IDF Chief of Staff Dan Halutz all failed in their roles during the Second Lebanon War, Judge Eliyahu Winograd said at a press conference in which he presented his report into the war's failings.
Meeting
Prime minister, defense minister meet with Judge Eliyahu Winograd, receive copy of interim report hour before press conference is held; prime minister will hold meeting with Kadima ministers after Winograd's press conference; leaked sections of report slam Olmert for 'hasty' and 'passive' wartime leadership
The retired judge said the prime minister "formulated his stance without a second thought, without being presented with a detailed military plan, without considering the complex conditions of fighting in Lebanon.
There was no organized consultation with others, mainly outside of army, despite his lack of diplomatic and military experience," Winograd said.
"The prime minister is responsible for failing to clearly set out the aims of the war, and for there not being a clear definition of aims of war and ways to achieve them. The war's aims were ambitious, and could not be reached. They were not within reach. All of these factors come together to form a serious failure of judgment, responsibility, and caution," he added.
"The decision to go forward with a harsh, immediate military response was not taken on the basis of a well-planned strategy," Winograd said.
"The IDF's response would result in massive fire on the home front, which the IDF didn't have an answer to. There was no information on the state of the army, despite the need for such information," he continued.
"The IDF didn't show creativity in making options available," Winograd said. "It didn't demand that reserves be called up, which would have allowed them to be trained and equipped ahead of a needed ground operation.
"The main responsibility for these severe failures are placed on the prime minister, the defense minister, and the former chief of staff. Had they acted differently, the results would have been different," Winograd said.
Peretz, Halutz slammed
Turning to Defense Minister Amir Peretz, Winograd said: "He has no knowledge or experience on diplomatic, military, government affairs.
He has no knowledge on the use of the military as tool to achieve goals. Nevertheless, he took decisions without consultation, and didn't give enough weight to contrary views. He failed to fulfil his role, and he didn't act out on the basis of a strategic plan."
Winograd delivers report to Olmert (Photo: Avi Ohayon, GPO)
Winograd continued: "He didn't demand or examine the army's plans. He didn't check the methods of the IDF, its plans, and its set targets.
Addressing the performance of former chief of staff Dan Halutz, Winograd stated: "His personal involvement in government decisions was dominant. He was not ready for the kidnapping. He acted impulsively."
"The chief of staff's culpability is made more severe in light of the fact that he knew that the prime minister and the defense minister had no experience, and his claim that the army was ready and had plan. He had no real answer to the doubts raised over the plan, and didn't present any to the political leadership. In all these areas, the chief of staff failed to fulfill his role, and he did not act with responsibility, good judgment, and professionalism."
Government also at fault
Winograd added that "many others" shared responsibility for the severe failures he highlighted, and turned his attention to previous Israeli governments which allowed Hizbullah to set up base on Israel's border.
"The complexity of Lebanese arena is not under Israeli control. The ability of Hizbullah to sit on the border, and dictate the level of escalation, was made possible by the 2000 retreat of the IDF from southern Lebanon. IDF commanders and political leaders are responsible for internal IDF failures before the prime minister and the defense minister came in," he said.
Winograd also laid blame at the remainder of the government for its "support for an immediate response out of unjustified faith in the decision makers."
"For 25 years, there hasn't been a war. The IDF was not ready for war, for a number of reasons, among them being that the political and military leaders decided that the age of wars has ended, and that the IDF had enough deterrence power and ability to deliver painful reminders to those who didn't know that," Winograd said.
"The challenges of ground forces were thought to remain in dealing with ongoing low intensity clashes. According to such view, there is no need to prepare for war or update Israel's general defense approach. We believe that we must look beyond the decision making failures, at these issues which form central questions, raised by the Lebanon War," he added.
"These are the questions standing at the heart of our existence as a Jewish and democratic state," Winograd continued.