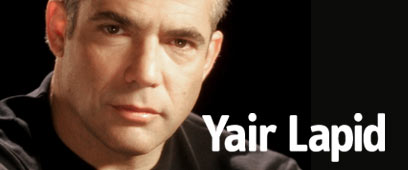 Al Gore film, "An Inconvenient Truth"
The country we don't have
I know what you wanted to happen. I have received your emails and was also asked to sign the petition. You wanted someone to do something. You wanted that five minutes after the report on the miserable, terrible, shocking and humiliating plight of the Holocaust survivors living among us (please don't erase what doesn't apply. They all apply) things would start to move
You wanted the honorable minister, forget it, why the minister, better have the prime minister bursting out of his office, flushed with rage. "Get the Finance Ministry's director general here now," he screams at his secretary, and the accountant general, the minister of social welfare and the Knesset education committee chairman. Tell them I said to move their butts and get here quickly."

An hour later, they are sitting opposite him but he is still standing. His left fist is on the table, his knuckles are white. "I am going to allocate 20 million NIS ($5 million) to this issue," he informs them, "out of the state budget of 20 billion NIS, half of which in any case pays for nonsense, it's really peanuts. I want to see the first checks go out tomorrow. I want the checks to arrive at their homes together with food parcels. I want their bed sheets changed and for them to receive normal medical treatment. Anyone have something to say?"

No one said a word except that this never really happened.

It didn't happen because a state like this no longer exists. Because if the prime minister wants to allocate 20 million NIS for the most righteous cause in the world, there exists an entire system whose sole purpose is to stonewall the effort.

A public tender is required before the state can procure food parcels and that tender has to be processed through the offices of the Treasury and the Accountant General. There is bad blood right now between the AG and treasury officials and the prime minister as well.

If they are in favor he is going to oppose. If he opposes the state comptroller will also be against because they are on the same side. And if the state comptroller opposes then the media agrees to disagree and you will always find a do gooder NGO that will go to the Supreme Court for a petition claiming "mismanagement of the distribution of food and medicine to Holocaust survivors."

The Supreme Court will convene a hearing on the petition. Surely they will meet immediately after they finish discussing the petition against publishing the testimonies from the Winograd Commission, or the dismissal of the president, or any other of the 12,000 petitions that have been submitted this year. It usually takes eight months for a petition to be heard so those Holocaust survivors will have to wait. Maybe the problems will work themselves out with time, if you get what I mean.

Inconvenient truth

Rarely if ever I see something on the screen that succeeds in changing my option. It happened to me after I saw the Al Gore film, "An Inconvenient Truth", which deals with global warming. Until I saw the film, I thought the issue was just a cause taken on by tree huggers who wear round glasses, love dolphins and professional pests who have nothing more interesting to do with their lives.

It's just that the former US Vice President Al Gore is the exact opposite. He's a conservative guy, a senator who is the son of a senator, the very personification of the establishment. In a simple, almost dry speech he shows viewers how we are destroying the planet we inhabit.

Here are three things I though of before seeing the film:

1. Scientists disagree regarding whether global warming is really a problem.

2. The data is arbitrary. Not every heat wave requires us to start screaming.

3. Even if the planet is warming up, I can't do anything about it.

Here are three things I learned from the film:

1. The scientists are not divided. In a number of studies on the subject there was not even one that contradicted the claim that the global warming is anything less than an environmental disaster. What does exist though is an entire public relations and promotion campaign by the oil industry which is trying to get us to think differently. They have been doing not too badly up to now. I was insulted to learn that I was so gullible despite the facts.

2. The data is not arbitrary. Air pollution has jumped by hundreds of percent in the last 20 years and continues to climb. Every heat record has been broken. Lakes continue to dry up, icebergs are melting, more hurricanes are blowing inland. We are warmer, we have less water and our shorelines are not protected.

3. There is something each one of us can do. See the film to understand what.

A gift as well

'A gift to the country' that is how the Jewish settlers described their march on Israel's Independence Day to the site of the former settlement Homesh in northern Samaria. "The state is not just barbecues and entertainment," they explained, "it's also the Zionism of settlement and ideology."

Sounds great of course. Our brethren in orange are terrific copywriters. It's just that the state is not just Zionism and settlement it is also people. It is officers and police and soldiers. Every day of the year, Samaria has to be secured and they naively hoped that maybe on Independence Day they would have a day to be with their own families, maybe make a picnic, have some fun, maybe a barbecue and enjoy life in this country which demands so much from them.

In the square

Excerpts from the speech delivered on Remembrance Day for Israel's Fallen 2007:

We don't remember the right things about our deceased. We remember squabbles. We remember something that we never should have said. We remember something we should have said but didn't. We remember how we went into the kitchen and our dead was sitting there eating a chopped salad with cottage cheese. He looked up at us and actually we had the time, we had something to say and we were even a little hungry but we did not sit down.

In the end we are stuck with all those terrible sentences. Why did we have to tell him that India isn't going anywhere? What would have been so terrible to let him use the car on Friday? Why did we have to tell him that his life isn't going anywhere? How is it that no one informed us that we were right, his life really went nowhere? Sometimes it seems that only strangers remember the right things about our deceased. We only remember the wrong things about ourselves.