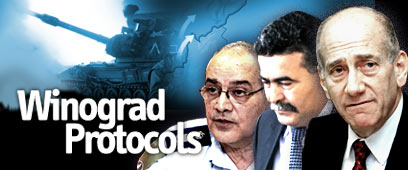 Olmert, complimenting Peretz
Photo: Gil Yohanan

Peretz. Should Israel be proud?
Photo: Hagai Aharon
"Amir Peretz is a story that, in many ways, Israel should be proud of," Prime Minister Ehud Olmert said in his testimony to the Winograd Commission.

The protocol, which was published on Thursday, shows the prime minister speaking very highly of Defense Minister Amir Peretz, most likely in an attempt to justify his appointment.

Peretz's Testimony

According to transcripts released Thursday morning, defense minister told commission that probed Lebanon war, 'I was not presented with a situation that the army had not trained enough'

During the inquiry, Judge Eliyahu Winograd questioned Olmert on his decision to appoint Peretz defense minister.

"You had a defense minister who never acted as a minister, but was given control of what is probably the most important ministry in the government…In hindsight; don't you think it may not have been a clever move to put this ministry in his hands?" Winograd asked.

Olmert in response said, "The guy came from Sderot, was a fighter in the IDF, was wounded in the IDF, was a mayor…he became the leader of the labor federation, won the Labor Party elections, surpassing all the leaders, Shimon Peres, Ehud Barak…he received the second highest number of votes as candidate for prime minister.

"What? Those 19 mandates that supported him for prime minister, didn't consider national affairs? What? Did they think he was some worthless person?"

Further defending his decision, Olmert said, "From the start I had no reason to determine that Amir Peretz, the leader of the Labor Party, was wrong for the job of defense minister. There were many people in the public, including myself, who thought that serving in the army in a certain rank was not a prerequisite for becoming defense minister."