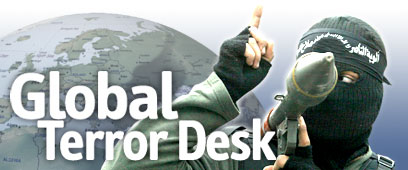 Al-Qaeda suicide bomber (Archive)
Photo: AFP

Al-Qaeda's second in command Ayman al-Zawahiri
Photo: AP Photo/HO/IntelCenter
LUXEMBOURG - Al-Qaeda is searching for ways to create nuclear weapons for mass destruction, a former UN weapons inspection chief said during a press conference at an international convention ways to prevent a nuclear catastrophe being held in Luxembourg.

Rolf Ekeus, currently High Commissioner at the Organization for Security and Cooperation in Europe (OSCE), and formerly Director of the UN Special Commission on Iraq, told reporters that the threat of a nuclear attack on a European city by al-Qaeda was tangible, and that steps are being taken to protect nuclear facilities from which terrorists can obtain enriched uranium.

"Al-Qaeda is searching for nuclear technology," Ekeus said. "They are looking for simple weapons... for mass destruction," he added.

Ekeus said al-Qaeda members "cannot be deterred. They are willing to sacrifice themselves," adding that prevention was the only means to combat the threat of nuclear terrorism.

"Of the 130 research reactors (with highly enriched uranium), very few of them have adequate protection. If I were looking for nuclear weapons, I would know where to go," the former UN official said. He added that steps were being taken to protect the reactors, and to make the enriched uranium inaccessible.

Former US defense secretary William Perry echoed the view, saying it was "not alarmist" to assume that there was over a 50 percent chance of a nuclear terrorist attack taking place in a European city - a view first expressed in the book 'Nuclear Terrorism' by terror expert Graham Allison.

'Iran obviously hasn't fulfilled obligations'

Addressing the brewing crisis surrounding the Iranian nuclear program, Ekeus said Iran's non-compliance with the Non-Proliferation Treaty (NPT) was a major cause for concern over its intentions.

"Iran has obviously not fulfilled NPT organizations," he said. "That is enough of a reason for concern. Iran acquiring nuclear weapons will have a tremendous effect on the whole region. I am deeply engaged with this issue," he added.