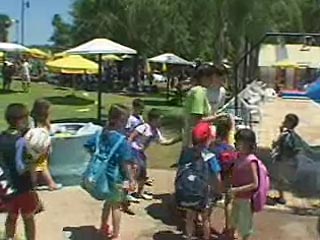 Summer camps: Not just fun and games (illus.)
Brainwash summer camp
They run summer camps for children and teach them all about love, modesty, and safe sex. They even hand out awards. Yet, it turns out that behind the volunteers of the Association for Prosperity and Security in the Middle East stands the disputed Scientology sect. Association members insist they are not missionaries. 'Our aim is to teach values,' they say. The surprised parents are not convinced. 'How come they run such activities without even asking us?'
"Don't be promiscuous. Sex is a great step on the way to joy and happiness. There is nothing wrong about it if addressed with fidelity and logic… Do not take drugs… Do not abuse drinking alcohol." (from The Way to Happiness pamphlet)

Every August morning, A. starts his day at the daily summer camp on Kibbutz Nahsholim, near Zichron Ya'acov. As far as he is concerned, the most important thing in the world is the Lego kit he wants for his birthday.

Controversial Movement

Who is behind invitation to party for 'Youth for Human Rights'? The invitation is signed by Don Shaul, 13 year old, with title of Israeli director of 'International Youth for Human Rights'. But behind heartwarming initiative stands Scientology movement

He knows nothing about drugs, never even touched alcohol, and the opposite sex means nothing to him. However, the summer camp instructors insist on educating him, young as he is, that Lego notwithstanding, the most important thing is not to lead a promiscuous life.

Shortly after breakfast, A. and his friends listen to Kobi Halifa, a volunteer of the Association for Prosperity and Security in the Middle East, who tells the children all about the perfect world of "The Way to Happiness." Therefore, between a dip in the swimming pool and a roll and cold chocolate drink, the children receive moral messages such as -- look after yourself, be modestly restraint, and live with the truth. These rather simple rules of life were written by L. Ron Hubbard, Scientology Church founder. Yes, it appears that even for children, the road to happiness goes through Scientology.

This could happen in the summer camp your child attends. The nice lecturers of the Association for Prosperity and Security in the Middle East are crisscrossing Israel this summer, addressing hundreds of children with lectures that reek of missionary messages. Needless to say that no one will ever inform you of these special messages.

Brainwashing, you say? Absolutely not, the association members respond. All they do is visit summer camp as a gesture of goodwill and humanity to teach basic moral values to the children. Scientology is not a bad word for them, but they would rather whisper it and not establish a direct link between the Church and their association.

Still, it does not take much to see the connection with the movement that had been declared a sect in Israel. The Ministry of Education had good reasons when in 2003 it issued a director general's instruction according to which the ministry does not approve of The Way to Happiness and its contents must not be used in schools.

The association members, however, are fully aware of the fact that in the summertime, Israel is filled with camps that are not directly subject to the Education Ministry. When camp instructors want to take a break, why not give an hour to the nice men and women who offer to educate the children in modesty, safe sex, and against substance abuse.

The association's activity is expanding daily. In recent weeks, many summer camps offer pamphlets on "love children and help them," lectures from the Way to Happiness, and role-games - all provided by volunteers. At the end of the day, to make everyone happy and pleased, the children even receive a poster with the moral rules.

"Hang it in a visible place in your house, write your name on it, have someone take your picture standing next to it, send us the picture, and you could win an exciting award."

'Don't be promiscuous'

"People without faith are a rather miserable bunch, but you can give them something to believe in. When they do believe, respect their faith." (from the chapter, Respect the Religious Beliefs of Others)

The Association for Prosperity and Security in the Middle East is very proud of its work with children. Victoria Lischinski, director of the association's summer camps division, said that only last month, volunteers visited camps in Beersheba, Kibbutz Yagur, Holon, Kiriat Gat, and many other places. "We visited every Israeli town," she reported. "There are summer camps everywhere, and people called on us to give our activities."

Certain parents, however, are not always happy with this. Not every parent is pleased to hear their children coming back from summer camp with messages such as "don't be promiscuous."

A., whose daughter attended a camp in the north, was glad at first when she showed him the poster.

"It looked like the messages were generally positive, like rules for good behavior," he admitted. "But then I saw who authored them and I happen to know that he is the founder of the Church of Scientology. Then, my 8-year-old girl asked me, what is promiscuous. What do I tell her? I cannot understand how they expose children to such things, and without the parent's being aware of that? The fact is that the Ministry of Education banned that, so they sneak in?"

H, a mother from southern Israel, also complained about the activities her daughter encountered last summer, without her knowledge. "Just as they let me know when they take the kids to the swimming pool, I need to know that they are being brainwashed," she claimed. "I talked to the summer camp director. She claimed the messages are very positive and she did not know they came from Scientology."

It should be noted that 4 years ago, parents actually encouraged the Ministry of Education to ban the use of the pamphlet in schools. Kobi Halifa, however, still maintains that the messages in The Way to Happiness are positive and that a person who tries to reject them, is violating its code.

"This is a values pamphlet that L. Ron Hubbard wrote in the 1980's when he realized that the West was abandoning religions and with them, the rules of proper behavior," Halifa explained. "Maimonides wrote books about Torah and medicine. Am I converting you to Judaism when I give you a medicine book by Maimonides? Of course not. The same applies here."

"The Way to Happiness is an imitation of the 10 Commandments," said G (32), a former member of Scientology who quit the organization.

"The church intends to turn its members into prisoners of the sect," she said. "In their center, they encourage the members to totally devote themselves to the organization, at the expense of family and friends from outside Scientology.

"When I first arrived there, they received me with great warmth and love," she said. "I filled out a 200-questions form concerning my mental and physical state. It all went very fast from there. They talked me into taking The Bridge (a long training course that costs tens of thousands of shekels - B.E.E.) as soon as possible. They suggested that I join the organization's staff because, they claimed, I could move on faster there. They even made me feel this was the logical thing to do because otherwise I would not be able to complete my studies, which were very expensive."

Those who join Scientology are also invited to spend their money on Auditing (spiritual consultation), self-improvement books, and an E-Meter (religious advise device) all in an attempt to reach a Clear State where a person no longer has a reactive mind, which is the source of all obstacles and negative emotions.

Foreign interests

"A government that is organized and directed by and only for groups and individuals who seek their own benefit shortens the life of society… Such a government should not be actively supported…" (From the chapter on "Support the government that plans and works for the benefit of the entire nation.")

Association Director General Dani Widislawsky insists that everything they do comes from good and pure intentions. "Our aim is to help reducing the scope of violence and drug abuse on the one hand, while improving the values of the society on the other," he said.

"The question is, who is interested in having more violence and drugs in the society. Regrettably, the Education Ministry has already proven its inability to handle the situation and offer an appropriate response to schools and educational teams, who perform sacred work."

Widislawsky is presently in the United States, where he gives association workshops in local Jewish communities and, so he claimed, has been invited to give a workshop to an unnamed Hollywood star. Any hint of missionary activity makes him jump up.

"It does not matter what foreign interests motivate the few in the society who are trying to fight against anyone who wants to help and contribute, while they engage in instigation, hatred, and destruction," he said angrily.

"The association is an independent, volunteering body that is not affiliated with any religion. We will go on helping and offering real assistance where the state systems have failed." The Scientology Center in Tel Aviv confirmed that The Association for Prosperity and Security in the Middle East is cooperating with the movement, but when presented with additional questions, they suggested we talk directly to the association members.

The Education Ministry reacted: "The ministry does not support the activities of The Association for Prosperity and Security in the Middle East in any way, and The Way to Happiness brochure was never approved by anyone in the ministry.

The ministry totally rejects claims concerning the way it handles drug abuse and violence. Studies showed that in recent years, there has been a serious decline in the scope of drug abuse as well as the violence. In any event, the ministry is constantly working to eliminate that. This is being treated with professional tools, which does not include the activities of the sect that is trying to sneak into the system like some thief."

Scientology is a practical and theoretical teaching that was developed in 1950's. It deals with spiritual awareness that goes beyond physical existence. It is based on the theory of Dianetics that was devised by L. Ron Hubbard, a science-fiction writer and US Navy officer. According to Scientology, some 75 million years ago, a tyrant from space named Zino arrived on Earth and left behind extraterrestrial parasites that cling to humans.

The advanced stages of Scientology deal with removing those parasites by hypnosis and, if this treatment fails, the patient is placed in isolation.

Scientology, religion to the stars, is causing more storms as it spreads. Scientologists spread messages - often without introducing themselves as working for the movement (such as distributing brochures and giving business management courses) - that have convinced many in Israel and abroad, including celebrities and stars such as Tom Cruise, John Travolta, and even our Odetta.

In recent years, Hollywood stars have been severely criticized for their increasing involvement in distributing Scientology messages, and Cruise's career, for example, even sustained a heavy blow because of that.