The new Israeli flower
Photo: Galit Kosovsky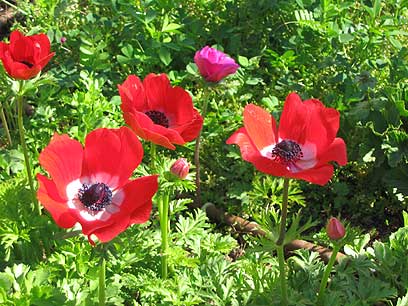 There was great drama Sunday in the race between the cyclamen and the anemone flowers. The cyclamen beat the anemone flower to the finish line in representing Israel at the China Olympics.

The cyclamen will be accompanied by the olive tree that took first place with 8,800 votes in the race between trees. In recent weeks Ynet surfers were asked to vote for the flower that would represent Israel in a special display entitled "We are one world" set to be held in parallel with the Olympic Games in Beijing. The request to select a flower and a tree to represent Israel was received by the Israel Nature and Parks Authority a month ago, and the voting began during the New Year holiday.



The Cyclamen - the official Israeli flower at the China Olympics

The fight between the cyclamen and the anemone was close, but the anemone confidently led the race – until the report Sunday in the Yedioth Ahronoth newspaper documenting the final and decisive moments of the race, when the number of participants in the vote grew dramatically (some 43,000 voters).

The tables began turning in the late morning hours, when the cyclamen began bridging the gap. When voting was closed, it turned out that some 30% preferred the cyclamen flower over the anemone which received 28% of the votes. In the race for a tree, the olive tree maintained its clear advantage and ended the race with 41% of the votes.

Now the Israel Nature and Parks Authority will have to rack its brains to find a way for the flower to bloom in August during the Olympics in China, instead of in winter. Experts explain that the bulbs can be "cheated" by chilling them and made to bloom at a later date.