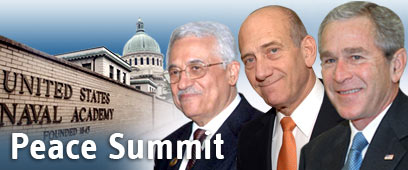 Syrian President Assad
Photo: AP
"Syria has decided to attend the Annapolis peace conference in order to test the sincerity of Washington's intentions to promote peace," the editorial in Syria's state-sponsored daily Tishreen stated Monday.

Diplomatic Games

Like seasoned poker player, Syrian president keeps his cards close to his chest

According to the article, Damascus will take part in the summit, on the relatively low level of deputy foreign minister, in order to thwart Israeli Prime Minister Ehud Olmert's "conspiracy" to obtain Arab and Palestinian recognition of Israel as a Jewish state.

Syria "does not harbor any illusions" regarding what the summit's outcome might be, and it is convinced "that Israel does not want peace and that it has been sabotaging the peace process for the last seven years," the article continued.

By attending the conference, Syria acknowledges the fact "that the Palestinian issue is the foundation for peace, security and stability in the region. For true peace to prosper, all aspects of the conflict must be addressed, including the return of occupied Arab lands: Palestinian, Lebanese and Syrian," Tishreen's editors wrote.

"In any case, peace is an Arab choice, and the Arab consensus to go to Annapolis requires a different, more important consensus – regarding unity on the Arab peace initiative.

"Today and tomorrow, Syria will support this necessary consensus, which aspires to make Israel adhere to the Arab and international principles for peace, and thwart Israeli Prime Minister Ehud Olmert's plan to get the Arabs to recognize Israel as Jewish state – in a bid to get normalization without paying a price."