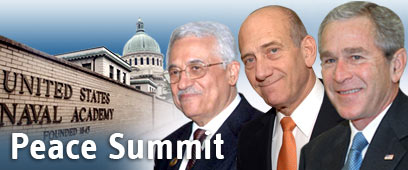 Praying against Annapolis
Photo: Dudi Vaaknin

Massive rally in Jerusalem
Photo: Dudi Vaaknin

MK Zvi Hendel - Olmert ran to Annapolis to escape police
Photo: Gil Yochanan
Some ten thousand protestors gathered in the French Square in Jerusalem on Monday to voice their opposition to the Annapolis peace conference and the line of negotiations between by Prime Minister Ehud Olmert and the Palestinian Authority.
Earlier in the evening thousands more held a public prayer against the conference at the Western Wall in Jerusalem's Old City.
"Ehud Olmert, like Abu Mazen (Abbas) and George Bush, is a lame duck and all they can offer are expectations which will ultimately blow up in our faces," said Yesha council chairman Danny Dayan ahead of the protest, which was organized by his organization.
Prominent right-wing MKs Effie Eitam and Ariyeh Eldad (National Union – NRP) refused to attend the rally so long as Knesset members from Shas and Yisrael Beitenu, which are party to Olmert's coalition, were allowed to address the audience. First let them resign from the government and coalition, said Eitam and Eldad, and then let them make speeches.
The rally in Jerusalem on Monday evening (Photo: Dudi Vaaknin)
Fellow National Union – NRP member MK Zvi Hendel did attend the protest however and spoke at length of Olmert's legal troubles, which Hendel said is the real reason the prime minister agreed to the conference. "To escape the police, he ran all the way to Annapolis," said Hendel.
"We have a weak prime minister and that is very dangerous, never before has a leader posed such a danger to the people of Israel. There is nothing more dangerous than a wounded animal and with Olmert wounded from all the police investigations he is weak enough to divide Jerusalem, free murderers and load
them up with arms on their way out," he told the assembled crowd.
Shaul Goldstein, head of the Gush Etzion settler's council in the West Bank, said Olmert was merely spreading empty promises.
"The people of Israel did not give you a mandate to give away its property and what belongs to it
historically, you have no mandate sir," said Goldstein.
MK David Rotem (Yisrael Beitenu) said: "We're all here as one to say to the government of Israel – do not raise your hand against Jerusalem, do not raise your hand against the settlements in Judea and Samaria. We will not allow the prime minister and defense minister to freeze the expansion of settlements in Judea and Samaria and we will continue to populate it."