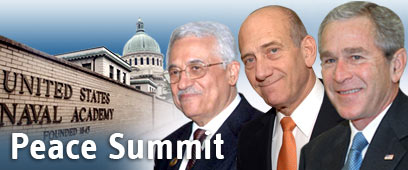 Olmert meeting Bush on Monday
Photo: AFP
Olmert: Annapolis strength lies in absence of Hamas
Prime minister says conference proves international community understands Hamas cannot be part of peace process, unperturbed by Saudi minister's refusal to shake his hand: 'Before they said it would be a monumental achievement just to see the Saudis here, so now if we don't canoodle and get an invite to a weekend in Riyadh it's worthless?'
WASHINGTON - "Annapolis' greatest strength lies in the fact that even though it is taking place without Hamas, there are a great number of Arab nations in attendance. The international community understands that Hamas cannot be a part of this process," an enthused Prime Minister Ehud Olmert told reporters in Washington on Monday after his meeting with US President George W. Bush.
The two leaders met for over an hour in the White House on the eve of the Annapolis peace summit. Foreign Affairs Minister Tzipi Livni, Defense Minister Ehud Barak and US Secretary of State Condoleezza Rice also participated in the meeting.
"We have said time and again, that were Hamas to accept the conditions set by the Quartet of nations – recognize Israel, combat terrorism and uphold previous agreements – as well as release kidnapped Israeli soldier Gilad Shalit – we would sit down with them," said Olmert. "But they are unwilling to accept even the most basic of these principles."
We aren't promising two-states
"The talks with the Palestinians are meant to create a sense of hope, they are in no way an outright pledge of commitment to the two-state solution," said Olmert. "Any such commitment is unequivocally tied to the realization of all the terms of the Road Map, most importantly ensuring Israel's security."
"I'm not talking about any immediate implementation of an agreement with the Palestinians. This is an extremely complex situation that demands a great deal of patience. What will move the process forward is if all conditions are met in regards to the establishment of a future Palestinian state. I share this view with President Bush.
"We do want to move forward, we want to change the status quo, but we must do this responsibly and exert caution and we want to do this in accordance with Israel's valid existential concerns."
'Concentrate on advantages of Saudi presence'
As for Saudi Foreign Minister Prince Saud al-Faisal's declaration that he would not shake Olmert's hand, the prime minister seemed largely amused. "I'm not going to go out of my way to shake hands with someone who isn't interested in it," he said.

"I remember that before the summit they said it would be a monumental achievement just to see the Saudis here, so now if we don't canoodle and get an invite to a weekend in Riyadh it's worthless? We have to look at the advantages of having the Saudis attend the conference.

"I represent the people of Israel and the State of Israel, a people with a magnificent history, and I will not put that honor up for sale. If someone doesn't want to shake hands with the people of Israel, I won't shake his hand," said Olmert.