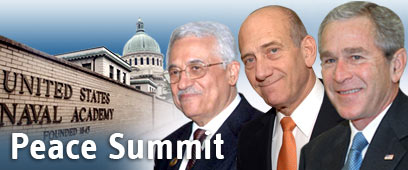 Abu Abir: A message for the world
Photo: AFP

Qassam fire (Archive)
Photo: AP
With the opening of the Annapolis Conference, Palestinian organizations in the Gaza Strip are sending a clear message to those gathering in Maryland.

Tuesday morning the Popular Resistance Committees announced the beginning of operation "Autumn Storm" in which the organization plans to launch rocket attacks at Sderot and the western Negev during the conference.

Meanwhile, fighting in the field has not ceased for a moment: in the last 24 hours at least eight Palestinians have died in a string of clashes with the IDF, including attempts to launch rockets and plant bombs near the border.

"The Annapolis Conference has been called the Autumn Conference, and leaves fall in the autumn; therefore, our missiles will also fall on Israel," said a PRC spokesman, explaining the name. "We are sure that the masks will fall of the faces of the conference participants, and all will see their conspiracy against the interests of the Palestinian people."

The spokesman, who calls himself Abu Abir, said that the missiles — which already began falling Tuesday morning — "will carry a message to all the world that the conference does not represent the Palestinian people and will only cause damage and increase the Palestinian's burden. We are also sending the message that whoever participates in the conference from the Palestinian side barely even represents himself.

Our rocket fire, which began this morning on Sderot and Nahal Oz, is the language in which we have chosen to launch our message and to respond to the conference's intentions to forfeit Palestinian rights and sell them off to benefit Israel."

Responding to the question of just how the organization has already decided the conference will end with the Palestinian Authority "selling" Palestinian rights and making concessions to Israel, Abu Abir said that "the very act of Arab states and leaders sitting down with a delegation from the Zionist enemy along with the discussion being conducted regarding normalization of ties between Israel and the Arab world — this already constitutes a concession.

"The very fact that (Palestinian President Mahmoud) Abbas and the Palestinian Government arrived in spite of the Palestinian consensus, in spite of the Palestinian organizations' stance, is already a concession that reveals contempt for the principal Palestinian demand to bring back intra-Palestinian dialogue and fraternity before any discussion with the enemy."
Certain failure
Regarding the latest reports from Annapolis, according to which the two sides had made some progress, Abu Abir scornfully retorted, "Does any serious person believe this talk? The conference will fail without a doubt. This was in fact its fate from the day the idea was born because there is not a single point on which both sides agree. Despite the fact that from the Palestinian perspective they are only asking for the minimum, they will not arrive at any mutual accord, this will prove that this is a conference for photographs and public relations."

As concerns the possibility that the Qassam rocket fire will only facilitate Israeli military activity in Gaza, Abu Abir explained: "We give the Israelis no excuse and they need no excuse. Tonight, yesterday, and every day the Israelis shoot, kill, demolish and liquidate and our rockets are only a response to the escalation.

"No one has the right to give up a single inch of Palestinian land. No one has the right to forfeit the right of every last refugee to return home. This is our way of saying that the Palestinians will never recognize Israel, neither as a Jewish state nor as anything else."

Islamic Jihad Secretary General Abdullah Ramadan Shallah slammed on Tuesday the Annapolis Conference and the Arab peace initiative, which he called "worse than President Bush's vision, worse than the Road Map, and even worse than the Oslo Accords and the Balfour Declaration."

Shallah said it is his belief that the conference's purpose was "to drag new Arab countries, especially Saudi Arabia, to normalizing relations with Israel and to cement an Arab-Israeli-American alliance that will lend an Arab façade to a possible American-Israeli raid on Iran."

Roee Nahmias and Hanan Greenberg contributed to this report