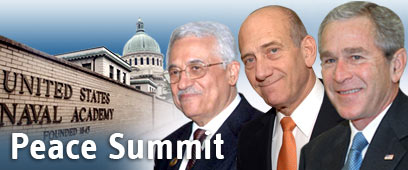 Bush, Abbas, Olmert
Photo: Reuters

Olmert addresses conference
Photo: Channel 1
Israelis, Palestinians agree to launch peace talks
US President George Bush tells Annapolis conference delegates Israel and the Palestinians agreed to immediately launch 'good faith' negotiations to achieve a peace treaty resolving all outstanding issues, including core issues. Olmert says, 'Reality formed in 1967 will change.' Abbas: We need East Jerusalem to be our capital
ANNAPOLIS, Maryland - Israel and the Palestinians agreed on Tuesday to immediately launch negotiations to achieve a peace treaty to end their six-decade conflict, US President George W. Bush said.

The understanding was reached as the Israeli and Palestinian leaders met at a Mideast peace conference organized by the United States.

Opening the conference, President Bush said that the parties agreed to immediate negotiations designed to reach a peace agreement before the end of 2008, with the first formal negotiating session to begin next month.

"We agreed to immediately launch good faith, bilateral negotiations in order to conclude a peace treaty resolving all outstanding issues, including core issues, without exception," Bush said, reading from a joint statement.



'We meet to bring an end to violence.' Abbas (L), Bush and Olmert (Photo: AP)
"We meet to lay the foundation for the establishment of a new nation, a democratic Palestinian state that will live side by side with Israel in peace and security. We meet to help bring an end to violence that has been the true enemy to the aspirations of both the Israelis and Palestinians.
"Today, Palestinians and Israelis each understand that helping the other to realize their aspirations is the key to realizing their own, and both require an independent, democratic, viable Palestinian state.
"Such a state will provide Palestinians with the chance to lead lives of freedom, purpose and dignity. And such a state will help provide Israelis with something they have been seeking for generations: to live in peace with their neighbors."
Time to end the bloodshed
Prime Minister Ehud Olmert, speaking to the Arab delegates at the Mideast peace conference, said "It is time to end the boycott and alienation toward the state of Israel."
Olmert pledged to enter continuous negotiations with the Palestinians in an effort to complete an agreement next year. "It will be bilateral, direct, ongoing and continuous, in an effort to complete it during the course of 2008."
"I believe that we will be able to reach an agreement that will fulfill the vision of President Bush: Two states for two peoples," he added.
He said a peace agreement could only be implemented, in "gradual and careful" steps, after the road map is fully carried out. "We will fulfill all of our obligations," he said. "Please do the same."
"The continued Qassam rocket fire on Israeli communities, especially the town of Sderot, is a warning sign we cannot ignore," he said. "I have come here despite these fears."
"We want peace," the Israeli PM continued. "We demand the end of terror, incitement and hatred. We are ready for painful concessions.
"We will address all of the core issues (in peace talks). I have no doubt that the reality that was formed in our region in 1967 will change in a most significant manner. I know this, and we are ready for it," he said.
Palestinian President Mahmoud Abbas told the conference that "comprehensive and deep" negotiations with the Israelis over all the so-called core issues dividing them must start immediately.
"Tomorrow, we have to start comprehensive and deep negotiations on all issues of final status, including Jerusalem, refugees, borders, settlements, water and security and others," he said.
"It is time for the circle of blood, violence and occupation to end. It is time for us to look at the future together with confidence and hope. It is time for this tortured land that has been called the land of love and peace to live up to its name," said Abbas.
The Palestinian leader called for an end to the "occupation of all Palestinian lands since 1967, including East Jerusalem, as well as the Syrian Golan and occupied Lebanese territory."
"We need East Jerusalem to be our capital, and to establish open relations with West Jerusalem," he said.
AP, Reuters contributed to this report